The Official Nonsense Thread
08-03-2017, 04:44 AM
simspeaker4
Member


Posts: 236
Joined: May 2015
Reputation: 0
RE: The Official Nonsense Thread
That is a sweet block of time, Minty. What are you planning to do with all that time?
Meanwhile, I've been reading 'True History of the Kelly Gang' by Peter Carey. I keep getting 'The Night Pat Murphy Died' running through my head whenever I read this book; which makes no sense considering the Kelly in that song hailed from the Maritimes and not Australia. Granted, they're both Irish but one's a necrophiliac party animal while the other's a legendary criminal.
Probably because the line 'Kelly and his gang came tearing down the street' comes up in the song. Pretty close, eh? Anyway, that's what I'm reading right now. Oh, and I heard 'The Ballroom Blitz' this afternoon while driving home. Great song but I always start coming up with questions relating to the topic. You can find the questions in my blog if you're interested. Unless you really want me to repeat them here.
Good evening.
16-03-2017, 08:03 AM
Minty
SF Administrator ie Matt's Tea Boy


Posts: 2,792
Joined: Aug 2010
Reputation: 4
RE: The Official Nonsense Thread
I have 48 hours to come up with a suitable present for my brother & his baby daughter as they are coming up at the weekend & I still haven't got them their birthday presents. No pressure!
I've been soaked by cloudbursts today & with the weather forecast looks like it is going to be three unless I get lucky.
The Guardian's now going on about how Harry Potter helps you make sense of the Trump presidency. It's like their staff have all been replaced by Nickelodeon's scriptwriters. If their intention has been to outdumb the Sun newspaper, congratulations guys & gals you've succeeded!
---
18-03-2017, 08:48 PM
(This post was last modified: 18-03-2017 09:27 PM by Caspin.)
Caspin
I love polenta


Posts: 3,252
Joined: Jun 2012
Reputation: 1
RE: The Official Nonsense Thread
Hello, how is everyone? You may be pleased to hear that I finished my CV. First job application was a 'no' but I've got another pending. It is slow work. I just hope I can get going before the border is in place!
I remember Wandarine saying that she was trying to spend less time looking at screens. Probably very sensible, although a shame for us here.
Babies don't need birthday presents and your brother probably just needs a sleep and/or a drink. Hope that helps.
I read the "True History of the Kelly Gang" but a long time ago. I liked it, although I do not like all of his books. Is it the one in which it is supposed to be written on all different bits of paper, like flour sacks and things like that? I seem to remember I enjoyed that aspect. I also recall that I gave it to my dad to read because he had run out if books (imagine the horror of running out of books!) and he hated it. Thought it was too odd. He won't borrow books from me now and thinks I only read strange things, possibly because the other book I offered him that year (during another reading emergency) was about an angel that destroyed a house and was translated from French. I suppose that one was a bit weird.
18-03-2017, 10:20 PM
simspeaker4
Member


Posts: 236
Joined: May 2015
Reputation: 0
RE: The Official Nonsense Thread
Hi Caspin and Minty! You're right about the chapters being on different pieces of paper and the like. I did not enjoy the book myself but I wouldn't mind reading more Peter Carey. I recently refrained from throwing 'Crime' by Irvine Welsh off my balcony. I'd never wreck public library property but I closed the book and decided to bring it back Monday.
I just found the characters to be pretty scummy. I will try reading 'Trainspotters' someday. Meanwhile spring break is coming and I can't wait.
Good to hear that you got your CV done - you'll make it, Caspin!
20-03-2017, 09:44 AM
Minty
SF Administrator ie Matt's Tea Boy


Posts: 2,792
Joined: Aug 2010
Reputation: 4
RE: The Official Nonsense Thread
There went that weekend looking after my brother, his wife & child & trying to keep them all suitably entertained, mostly the baby! Some of my other relatives had got their one year old a baby doll which it hated, especially when it made crying noises - even I could have told them that.
If looking for toys for children, Hamleys are brilliant, tell them what you are looking for eg. nongender specific for a one year old, & their staff are more than happy to tour you around the store & show you everything they have that fits the bill. Brilliant place where you can still get old fashioned toys to give a little one's mind a good work out. Got her a wooden clock with wooden shape blocks for the holes where the numbers are meant to go, which kept her almost as entertained as showing her the TMBG video for "Istanbul (Not Constantinople)".
Their kid is yet to walk properly - she finds it still faster to get from A to B going along the floor on one side, reminding me of Gollum in Lord of the Rings. Come to that, she kept trying to pull a ring off her mum's finger.
Precioussssss!
Up here the nonsense about another referendum has stopped. No one I've spoken to wants one, not even the nationalists, & everyone is convinced this is Sturgeon on another ego trip. I'm not so sure about that: I think she knew Tinfoil Theresa would say no, so giving them a nice little boost before next month's council elections which could see every single Labour council left up north wiped off the map, an event I never thought I'd live to see. I wish they'd all get on with running the country & less on how it's going to be run. We already know how that's going to be done - badly!
Up here it's starting to get very worrying with the number of homeless in the streets. All of a sudden they are now in every doorway, every spare space available, all hours of the day. Some are reckoning that it's due to this new drug Spice doing the rounds which leaves them comatosed for 12 hours at a time & thus static for longer, but it is without a doubt new people, most of them looking on their last legs.
That's Chuck Berry away, one of the very last of the originals gone. I was getting spooked on Saturday because every store was playing ELO & I wondered had something happened to Jeff Lynne.
---
23-03-2017, 04:10 AM
simspeaker4
Member


Posts: 236
Joined: May 2015
Reputation: 0
RE: The Official Nonsense Thread
Hello! Your comments about referendums and drugs caused me to geek out and go researching. Spice does not come up in the book I'm currently reading (Richard Davenport-Hines' 'The Pursuit of Oblivion') but it sounds potently nasty. Makes one want to embrace cynicism and pessimism like never before.
Meanwhile, Spring Break is closing in!
I won't be going anywhere but this is going to be a lovely stay-cation. I need to buy my moggy a cat tree. Mom thinks it should be at least 3 feet tall. I might get a 4 foot one.
Take it easy, everyone!
29-03-2017, 06:41 AM
Minty
SF Administrator ie Matt's Tea Boy


Posts: 2,792
Joined: Aug 2010
Reputation: 4
RE: The Official Nonsense Thread
Three days of lovely warm sunshine. It was nice while it lasted.
Loved the way the mainstream news largely omitted to mention those billion barrels of oil discovered off Shetland - the ones they denied a month before the Scottish Independence referendum a few years ago existed. Would be very surprised if Scotland stayed in the UK now.
I've caught a cold from my workplace. Grrrrreat!
---
08-04-2017, 09:28 PM
Caspin
I love polenta


Posts: 3,252
Joined: Jun 2012
Reputation: 1
RE: The Official Nonsense Thread
Baking hot here at the moment. I like the light, but feel hay fever already beginning its attack. Too soon!

Was woken early this morning by a bird laughing. Truly. Like this: HA HA HA HAAAAA! I am told it was a green woodpecker.

Looking forward to a week off over the Easter break, although at least some of that time will have to be spent writing applications. Necessary evil.

In other news, "A Field in England" is a very strange film.
09-04-2017, 10:45 PM
Minty
SF Administrator ie Matt's Tea Boy


Posts: 2,792
Joined: Aug 2010
Reputation: 4
RE: The Official Nonsense Thread
Yesterday was ferocious in Glasgow, bodes well for the rest of the year if we can get this hot already. Saw some tiny "handbag" dog excitedly go up to some big wolf thing on a lead, they decided to eyeball one another as best they could, & the result was something like this:-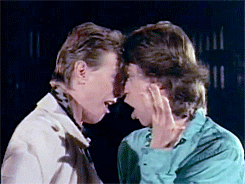 Council elections up here are getting very strange. There's the business of three corrupt factions deselected from their parties fighting as competing blocks of independent candidates in North Lanarkshire (two SNP & one Labour), & a deputy council leader standing as - nothing!
He left the designation blank, not even as "Independent". There's a suspicion he's hoping some think it is a printing error & he's still with Labour, others accusing him of only pretending to be an independent in the hope of getting a seat after transfers from the local Tories, stopping the SNP getting two, & will "rejoin" Labour once the election is over.
At first I thought it sounded the usual "gets deselected, stands as independent" sour grapes you always get up here at election time from those who miss being to claim limitless "expenses" on the public purse, but Labour only declared their candidates for that sole ward with a day to the close of nominations - very weird. Even weirder he managed to get nomination papers from the council & find ten people willing to sign it with less than a day by my calculations to do so.
Not that I'm surprised they dropped said deputy council leader after he was caught two years ago by a tabloid newspaper peeing in someone's garden during another election campaign!
As if there isn't enough lunacy going on, we have some ex-Kippers standing against their own lot due to some running feud with their fat sweaty Orange Unionist bigot leader up here. What party are they standing as? The SDP! Like, WTF? Weren't The Gang Of Four all for the EU?
One joker has said as their leader in Scotland is called Sarah Devenney (an "entrepreneur" - in other words "aspiring robber baron"!) SDP now means Sarah Devenney Party. May as well be the Anne Summers Party - the only party where they openly want to see the electorate screwed.
We've been getting Long Tail Tits appearing like flash mobs & causing everything else in sight to scatter. One of the neighbours cats froze when they arrived one time & started jerking its head this way & that chittering crazily like it was pretending to machine gun them.
"A Field In England" LOL, you saw it too on Friday? Yes, one of those movies where the longer it goes on you start to wonder "is this really the movie or what I've been drinking during it?"
---
12-04-2017, 03:47 AM
simspeaker4
Member


Posts: 236
Joined: May 2015
Reputation: 0
RE: The Official Nonsense Thread
The weather is starting to look up here in the frozen north as well. Question for Minty - what's Irn-Bru really like? I've been observing UK television and was wondering if there's a difference between Irn-Bru and Lucozade. I'm sure there is but the dude I was watching didn't make the difference clear.
Anyway, I'm going to have some more soda and go to bed.
User(s) browsing this thread: 1 Guest(s)