01-06-2013, 05:23 PM
Caspin
I love polenta


Posts: 3,253
Joined: Jun 2012
Reputation: 1
Adventures with dragons!
I downloaded the new EA world "Dragon Valley" plus the associated Renaissance Fair, plus a festival lot created for the world. Got it all set up and dumped in some sims to play with. I haven't actually played Sims 3 properly for ages due to being too busy a bee, and it's been a while since I uploaded any pictures from the game but fear not! - now you can feast your eyes on some SimsForums sims battling dragons, conversing with elves and generally prancing about in medieval garb. What a treat for you!
We arrived in town (so pretty!) and realised that we looked out of place. Why is that? Oh yes, we are a bit too modern-looking. Ollie's green shoes are particularly bright and conspicuous!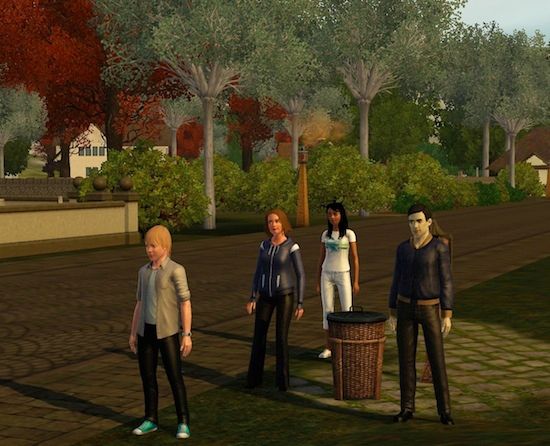 Let's have a bit of medieval makeover shall we? I apologise if anyone hates their outfits.

Ollie is a bit stuck with weird clothes until he ages up, as the items for teens are not particularly suitable for the medieval look. I've picked out some more muted colours for him though - and I do love that jumper-jacket thing with toggles so I was pleased to use it. Sommie got the dress I liked most on the basis that it looked way better on her, but I didn't mind mine after I'd changed it to a better colour. Minty gets a very suitable outfit straight out of Sims medieval (and if you think that's funny just wait till you see your formal wear!).
We look nice, right?
Everyone checked their tablets and smartphones for a while, which looked faintly ridiculous in DV, and I'm just waiting for the ice-cream van to show up and spoil the medieval ambiance.
Next up - accommodation. I did some jiggerypokery with our finances until we could afford something better than a one-bedroom shack. I picked this place mostly because I liked the door. Note also that we have a wicker bin, because of course that would be extremely practical.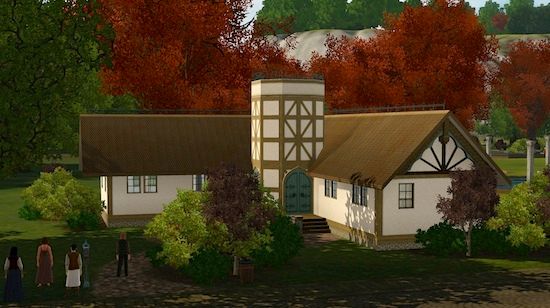 That's as far as I got today and now I have to go and bake sweet potatoes for a curry, but I shall upload some more pictures next time I play. As usual it will take me a long time to redecorate the house.
I rolled an interesting wish just as I was saving. "Grow forbidden fruit." What now?! Well OK, we will try.
We must of course locate some dragon eggs. Also we must get down to the Fair and try out archery. Then we can go around telling everyone we meet that we used to be adventurers but then we took an arrow to the knee.
Dragon Valley looks really great and I love some of the features - the chalk drawings on the ground, the ruins and celtic symbols everywhere, the round theatre and other community lots all look ace. They have nice little details as well - fiery lanterns as street lamps for example. This could become one of my favourites.
Squeeeee!
02-06-2013, 03:11 AM
Ollie
It's all a conspiracy!


Posts: 3,767
Joined: Sep 2008
Reputation: 0
RE: Adventures with dragons!
Poor Minty, what on earth is he wearing?!
---
02-06-2013, 07:56 AM
(This post was last modified: 02-06-2013 09:09 AM by Caspin.)
Caspin
I love polenta


Posts: 3,253
Joined: Jun 2012
Reputation: 1
RE: Adventures with dragons!
(02-06-2013 03:11 AM)

Ollie Wrote: Poor Minty, what on earth is he wearing?!
I know, he looks a bit rough next to us in our flamboyant togs doesn't he. Poor Minty. I figured it was no worse than his chef outfit. Real men might not wear washing up gloves but his sim is certainly keen on aprons.
He looks fab in his formal wear though, so maybe we should all walk round in our party outfits for a while. Also I realised that I forgot to give us old-style outdoor outfits, so if it gets cold we'll spring back into modern outfits. I'll need to be on the look out for townies immigrating as well because they won't be appropriately dressed. I wonder if I'll ever get to play the game or if I'll just be on Outfit Watch!
Edit:
Urgh, what is it with Windows and its insistent, unending updates. Played for half an hour, only to have the whole system shut down to run a billion reconfigurations without even bothering to ask whether I wanted to restart now or later. It's just rude! What if I was working and hadn't saved something important? Damn you Windoze!
And I just met our elven papergirl! Oh well, back to the beginning!
02-06-2013, 11:37 AM
Minty
SF Administrator ie Matt's Tea Boy


Posts: 2,813
Joined: Aug 2010
Reputation: 4
RE: Adventures with dragons!
Thank you Caspin for dressing me like MC Hammer!
More piccys - MORE PICCYS!



---
02-06-2013, 01:56 PM
Caspin
I love polenta


Posts: 3,253
Joined: Jun 2012
Reputation: 1
RE: Adventures with dragons!
More pictures? Oh all right then, seeing as you asked, I shall oblige.
Who the hell are you?
The versions of our sims that I'm using don't know each other, so I thought I'd better start off with some chit-chat so that we all get acquainted. Ollie had some homework in his backpack and asked Minty for some guidance. Naturally the best place to sit was in the street.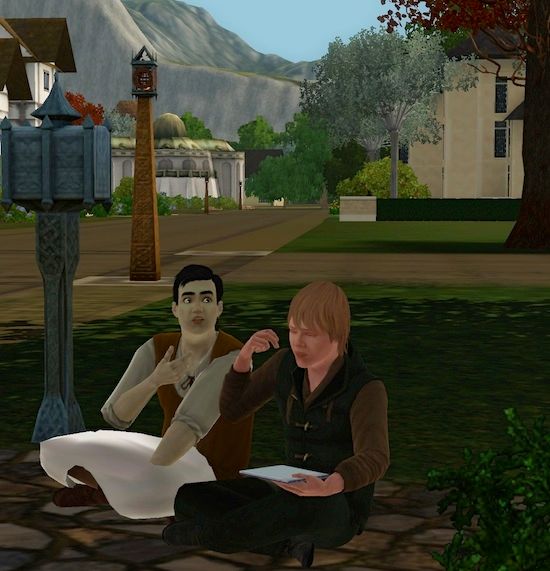 Ollie looks like he's saying "lalala I'm not listening!" but he seemed to be writing things down and the homework did get done. (Believe me, when you're in my game, the homework always gets done!)
I wondered why Minty was all goggle-eyed. Swinging the camera round revealed two possible causes.
1. The papergirl is an elf with blue hair. Down here I wouldn't bat an eyelid at a papergirl with blue hair, but things may be more conventional where Minty's from.
2. Second possibility for the wild-eyed look on MC Mint could have been the arrival of the university llama, with whom he immediately fell in love. There were little hearts all over the place and endless "I want to get to know you better" pop-ups. Deary me. Your sim should feel totally free to get lucky in my game, Minty, but can you please select a non-llama love interest? Ta!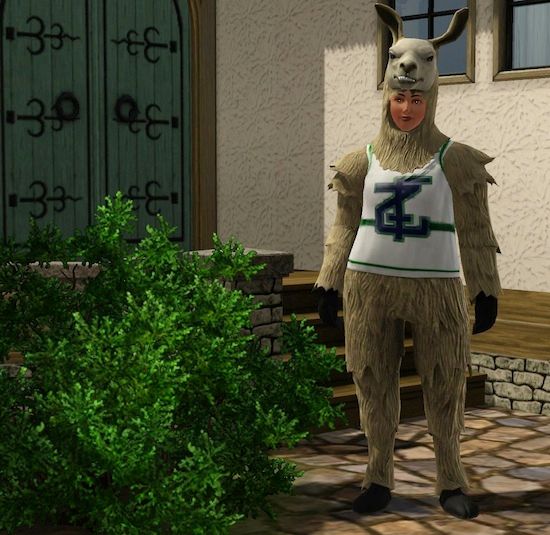 To make matters worse, [removed] also took a liking to the mascot. Ollie, you and I are the only sims acting rationally at this early stage in proceedings!
While Minty and Ollie were working on the homework assignment and freaking out in various ways over visitors to the front drive, Caspin and [removed] decided to visit the local tavern. It was a hot day in Dragon Valley so they were glad of some cool and refreshing beverages.
Caspin demonstrated her drink-mixing skills (could probably do it in my sleep to be honest), while [removed] sat demurely on her bar stool. At this point I noticed for the second time that (a) her dress is nicer (no need for any dragons with my sim acting as a green-eyed monster!) and (b) she has no feet.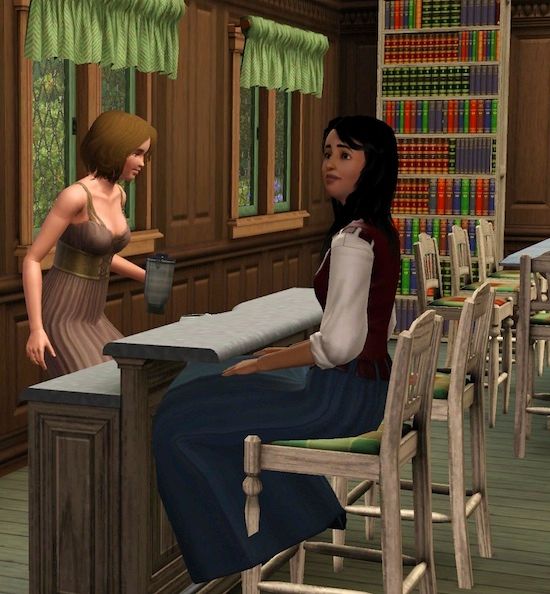 We hung out in the tavern for a while, chatting about this and that. [removed] became mildly exasperated by Caspin's unwillingness to put down a glass.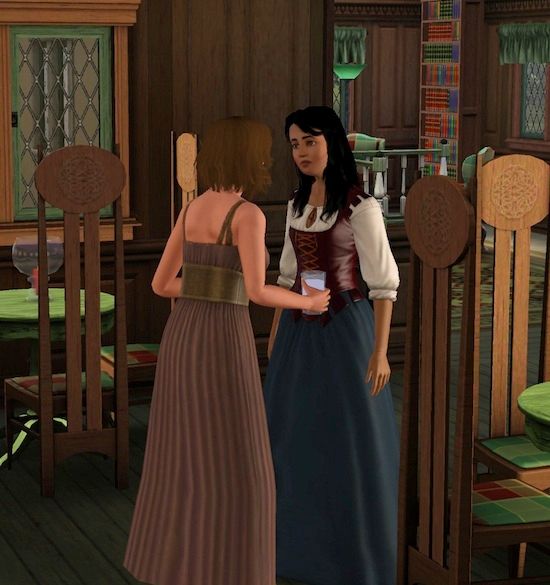 Things progressed to the sharing of cat videos via Ye Olde Smartphone.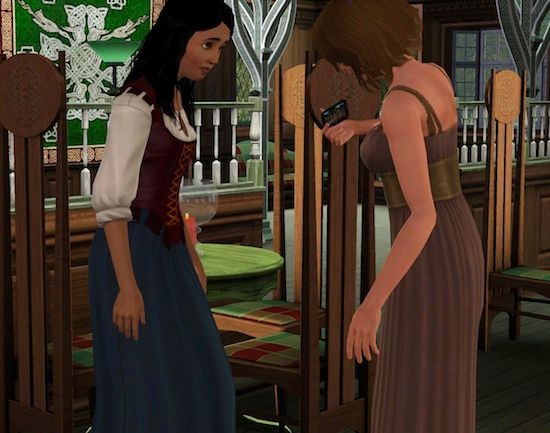 Fortunately (for Sommie), by this point the homework was finished and they were all ready to meet up and have some fun in DV.
SF Gravestone Roadtrip
I was almost giddy with excitement when I realised that I could actually act out the SimsForums Gravestone Roadtrip! We all headed to the cemetery to ooooh and aaaaah over some fine old stones.
They've done some nice Celtic-ish designs for the new gravestones. Caspin was so happy with the new stones that she became emotional and weepy. There, there.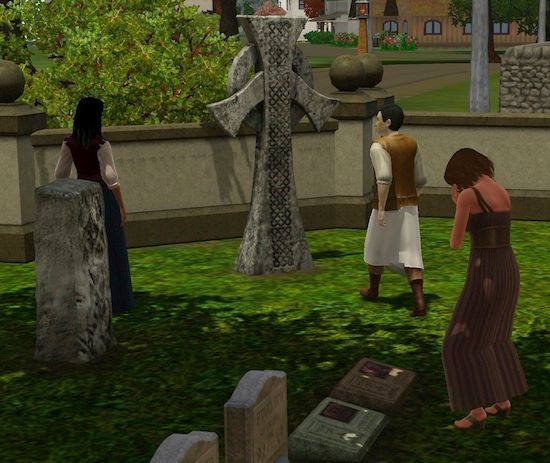 Ollie's Eggs Part 1
While the others were busy scrutinising symbols and mucking about, Ollie started work collecting some dragon eggs. One was lying in the entrance.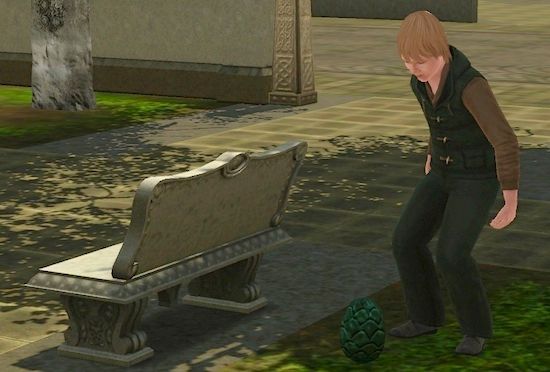 As soon as he picked it up, it started a countdown. This made me slightly nervous as he put it in his inventory. I don't want any exploding fire-breathing type incidents occurring in someone's backpack!
Another egg was found near the back of the graveyard.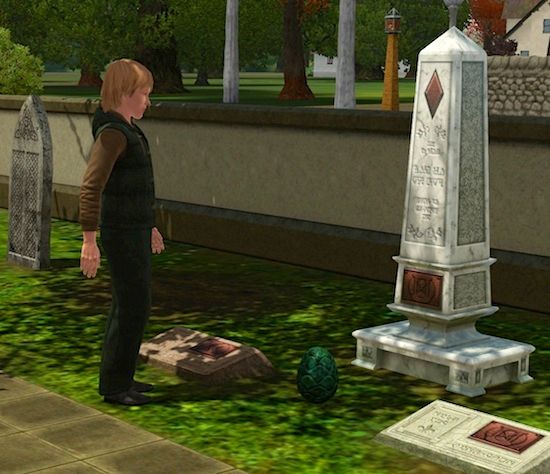 Excellent!
A scenic interlude
One of the big selling points of this world, for me, was that I thought the new community buildings were so lovely. We all headed to the theatre to watch "Cyborg Goat Herders" in the round.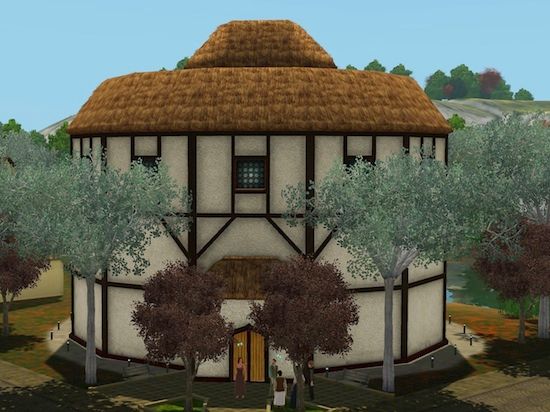 Everyone liked the film except Minty, who thought it was crap. Sorry - you can choose the film next time.
As we were leaving Ollie started acting rather strangely. I was not quite sure what he was up to. He wasn't tired but it did look like yawning. Also the eggs were still counting down, so I sent Ollie home so that he could supervise their hatching somewhere safe.
[removed] and Caspin, meanwhile, decided to go to the spa. Straight out of Rivendell.
We know Minty likes his football, so I sent him off to watch a game at the athletic ..... marquee! Straight out of Camelot.
Ollie's Eggs Part 2
Back at the house, Ollie set down the two eggs he'd collected in the graveyard and found that there was a third egg in the house (do some of the houses already contain eggs?!). He diligently rotated around the three, chatting on various topics until they hatched.
Nothing like a bit of babytalk with a dragon's egg.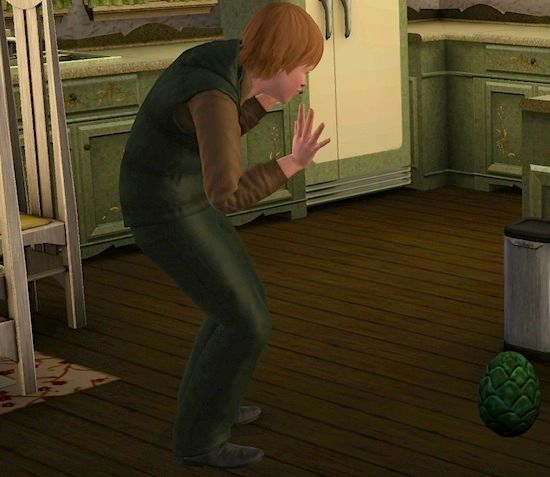 All three hatched successfully. Poof! I couldn't work out how to put the eggs down some place specific, so we had two hatch in the dining area and one in the bathroom.
The first to appear was one of the purple sparkle-pukers. Sigh. I named him Puke and he took quite a liking to Minty! (Don't worry, I'll try to get you a more butch dragon later!)
The other two were both red.
Here is Ollie with the first red to hatch (in the bathroom). I called him (or her?) Rusty.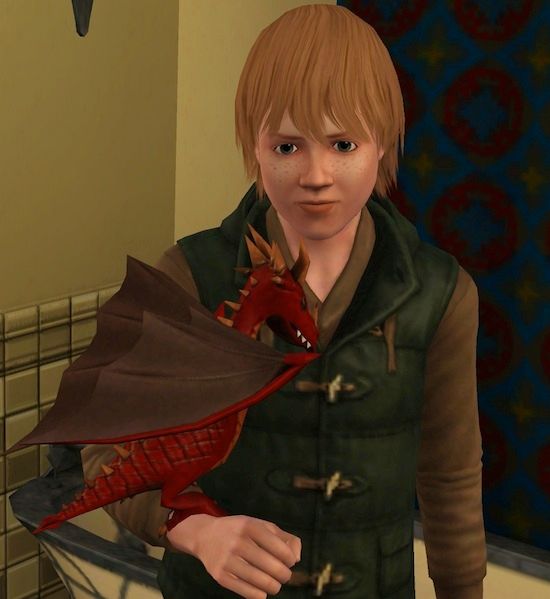 Sommie and I arrived home from the spa and Caspin tried to feed the remaining red dragon, Flame. Naturally it bit her - what did I expect?!
An old friend
That is all I have time for today, as I must do some household stuff and then go to the pub for lunch. However I shall leave you with this picture of Dragon Valley, with it's lovely red foliage, ruins and Celtic stones, fountains and our little house with its pretty arched door and little turret.
And an old friend - the evil medieval ice-cream van!
03-06-2013, 09:20 PM
Minty
SF Administrator ie Matt's Tea Boy


Posts: 2,813
Joined: Aug 2010
Reputation: 4
RE: Adventures with dragons!
That world looks so good! EA must be saving the best items until the last in the hope of convincing us Sims 4 will be even better. That spa building is beautiful, & yes so are those streetlamps.



---
04-06-2013, 08:48 AM
Caspin
I love polenta


Posts: 3,253
Joined: Jun 2012
Reputation: 1
RE: Adventures with dragons!
Possibly, although now that I have all these shiny fun new things in my game, I'll be even less likely to ditch everything and start with Sims 4 base game only.
23-06-2013, 05:19 PM
Caspin
I love polenta


Posts: 3,253
Joined: Jun 2012
Reputation: 1
RE: Adventures with dragons!
Yay, found an hour or two to play today so here are some (by which I mean many) more pictures of Dragon Valley.
Today - ladies and gentlemen, puppies and kitties - we shall witness what happens when you put a young woman from the modern world ([removed], that's you) into a medieval setting. We shall also see Ollie's amazing work ethic in action, as well as a transformation of Minty the Peasant into Sir Minty of Stare-a-lot. Caspin will generally be behaving strangely, as she would in any era.
Boys and Their Dragons
Minty will not let anyone else play with Puke (the purple dragon). When he's not talking to it or playing with it or watching it fly, he keeps it in his pocket. I'm getting a bit worried about his dependence on Puke. Meanwhile the red dragons caused some problems by raising everyone else's energy bars to maximum so that we could not sleep. The red dragons themselves slept just fine!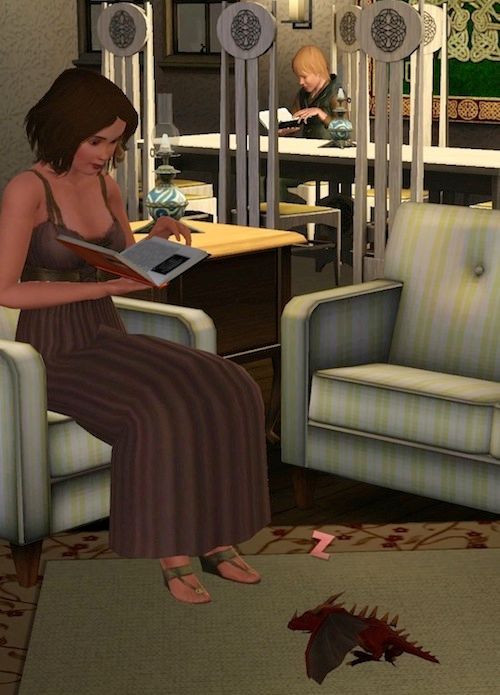 [removed] sat in the other bedroom and looked at websites all night, while Ollie and I practised cooking pancakes for each other and read a lot of books. It was a long night!
By morning, Ollie was googly-eyed from too much reading (and possibly from being stuck talking to me for so long, but he was too polite to say so). He took a little walk about the house with a red dragon as a parrot for his shoulder.
Caspin: "That's not a parrot, Ollie."
Ollie: "Yes it is."
Minty woke up from his nice long refreshing slumber and immediately shunned the rest of us to rush outside and play with his best friend Puke.
They started with a spot of singing.
Minty: "La laalaalaaaaa!"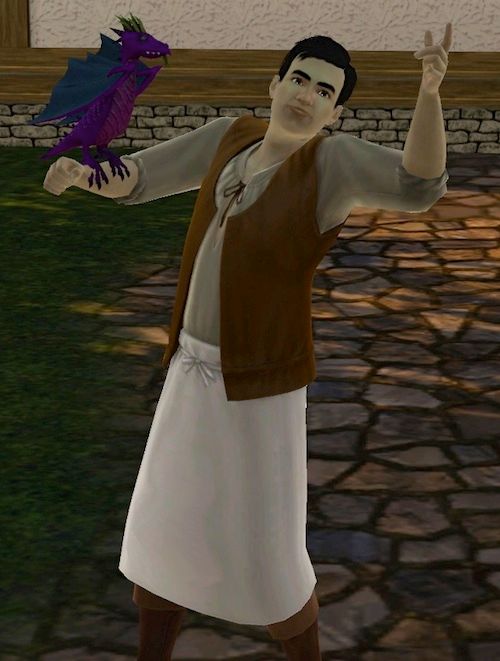 Then Minty enjoyed gazing at his dear little Puke, who swooped about in the sky. It's behind you, Minty!
Oh dear.
[removed]'s Addiction Part One
Somoyea disappeared for a while. Whenever I went to check up on her she would be standing outside various venues in town, obsessing about her smartphone.
Sommie: "But look, there are cat videos galore."
Minty: "Make a video of me singing to Puke!"
Sommie: "No."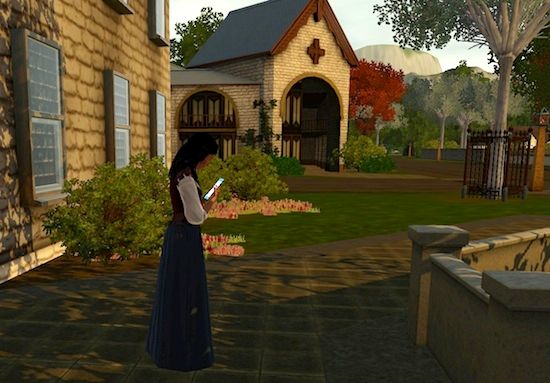 Ollie's Day
Everyone got jobs - I'm a teacher, Minty's a chef (again!) and [removed] is a politician. Ollie took a part-time job at the mausoleum, seeing as he seemed to enjoy the trip to the graveyard to hunt for dragon eggs. None of the adults had to go to work on the first day, but of course poor Ollie still had to go to school.
What a school, though! It looks great! Caspin is excited that she will be working there.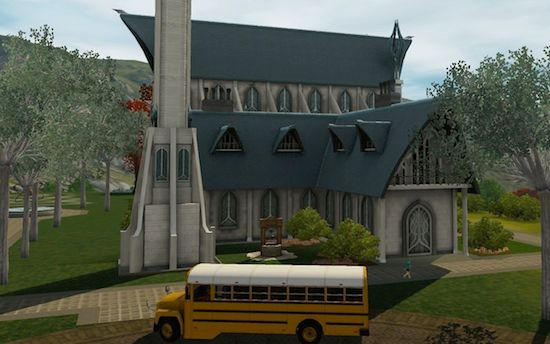 Ollie do you want us to dye your hair so that you fit in here better?!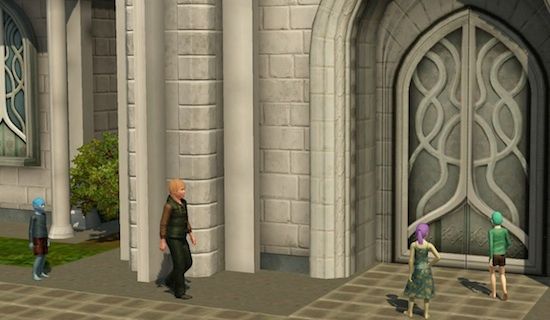 Crazy-looking kids.
During school Ollie was given an assignment to do in his own time at the science centre. Poor Ollie - no rest for you! He went there straight from school to try to complete the assignment before his part-time job started.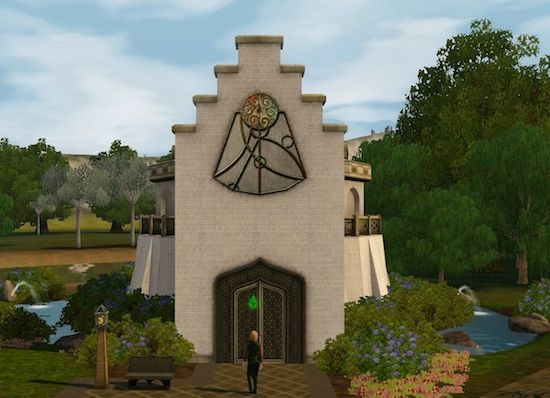 Freakish Conversations
While Ollie was busy learning at school, I was able to watch what adult sims get up to on their days off in DV. [removed] kept trying to run off by herself to play with technology (she feels cut adrift without it!), Caspin couldn't stop reading and making pancakes, although you'd think she'd had enough after The Night Without Sleep. And Minty ..... just kept staring. I knew this dress was a bad idea. Ahem.
Caspin: "Oi - eyes up, peasant boy!"
Minty: "Sorry. Do you want to hear my song about Puke?"
Caspin: "Erm ..... Let's go out for an hour, I think Sommie needs some fresh air."
And so we went to the nearby pond (complete with ruins) for a bit of fishing and a nice walk in the sunshine.
Caspin: "Are you having a nice time, [removed]?"
Sommie: "Sure, it's great. Really .... green, and stuff. With daisies."
"But the wifi signal is
terrible
!"
I am not sure Sommie is cut out for life in Dragon Valley!
At least Minty was enjoying himself, for once without Puke.
"Look, Caz, I'm fishing!"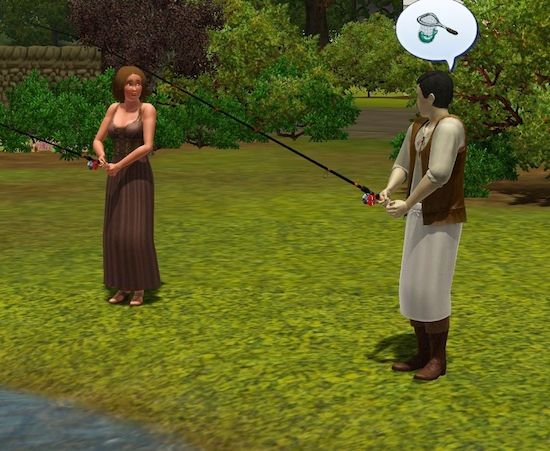 "Yes, but I've actually got a fish!"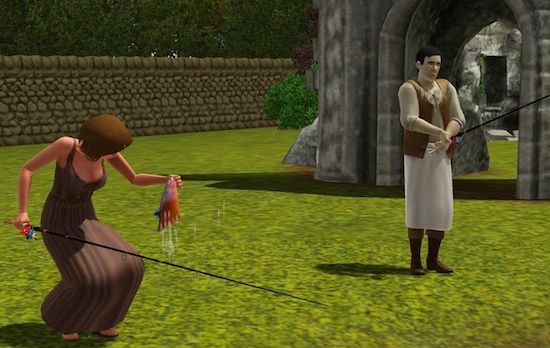 "Girly swot!"
"Puke lover!"
I decided it would be best to move on, before Minty and I started a fight and Sommie threw herself into the pond over the epic failure of broadband in the park. Also everyone by this point was peckish. "To the bistro!"
Peasant-Be-Gone: A Transformation
We got changed into our formal outfits for the bistro. As you can see, MC Minty scrubs up nicely into his knight's outfit. How are those metallic tights working out for you?!
During dinner I somehow befriended this purple-headed fellow, who insisted on hanging around afterwards and talking non-stop.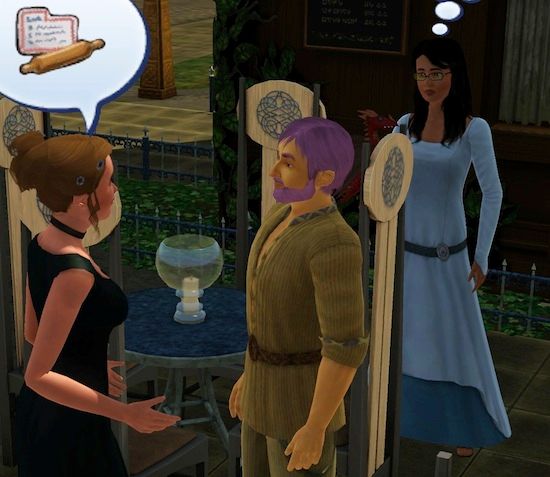 Minty took out his own little purple friend (!) and he and Puke indulged in some gossiping and more staring.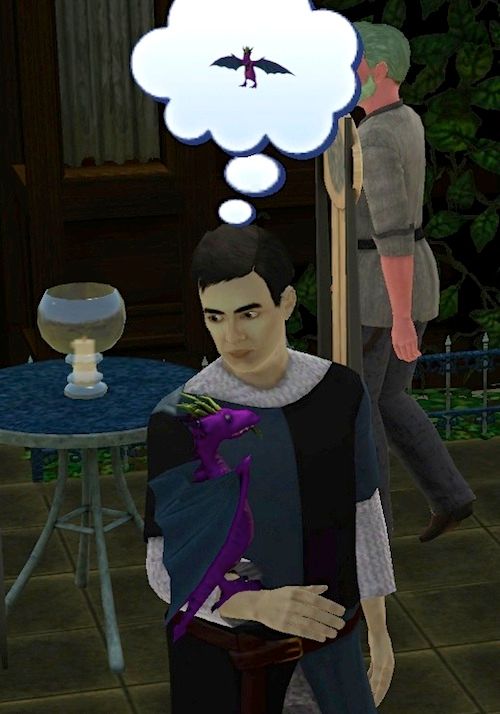 I sent my new friend away and decided that perhaps Minty needed some attention or else he would soon only be able to converse in the language of dragons. What followed was an extremely bizarre conversation with a lot of waving of hands.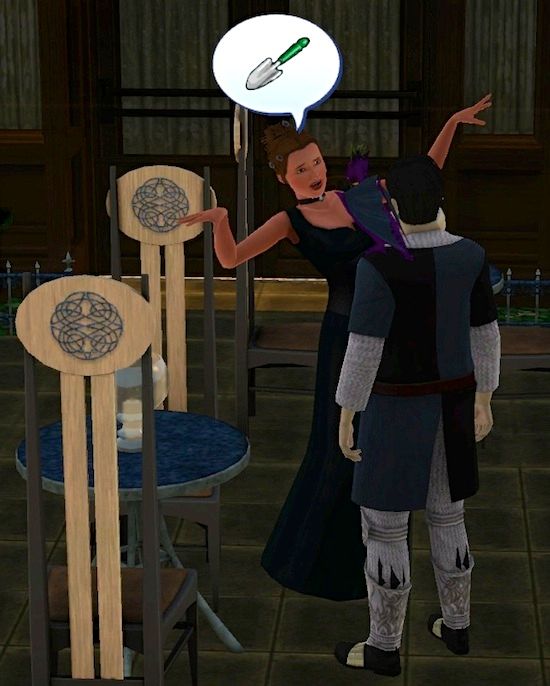 Some of the speech bubbles were awkwardly placed so it sometimes looked as though I was addressing Puke rather than Minty. They are as one!
Minty/Puke: "I like vegetables."
Caspin: "Who said that?!"
Things got even stranger when Minty had Puke cast some kind of rune spell on me! I went all shiny and floated for a while. Minty looked suitably guilty.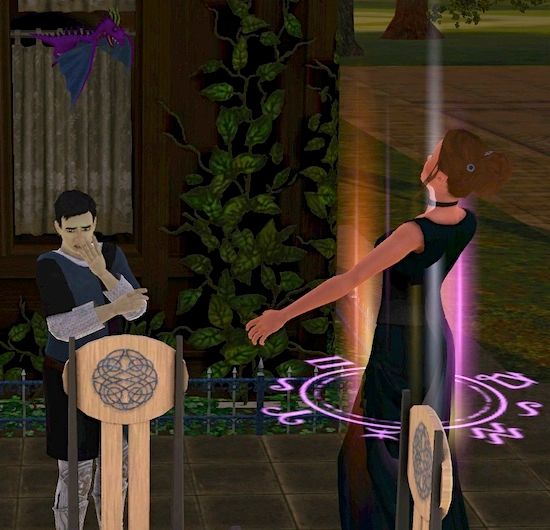 Ollie's Complaints
At this point Ollie turned up, having been out all day doing work of one sort or another. He wasted no time in putting a stop to the mucking about and making some complaints to Caspin.
"I'm starving hungry, I'm knackered and I have homework. You lot have been messing about doing nothing all day. Sort all this out, please."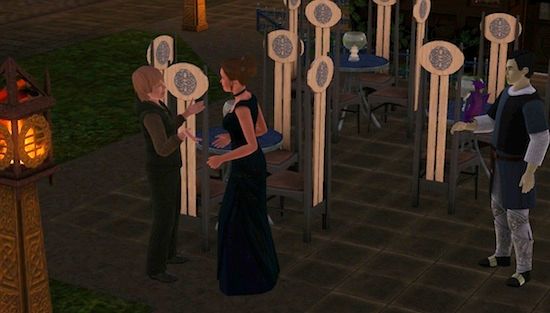 Quite right, Ollie. You tell her!
Caspin immediately bought Ollie dinner, as hungry sims quickly become horrors to deal with, what with their waving and pointing to their stomachs.
Minty had dinner too but wouldn't sit with us. I guess he'd rather sit with Puke. Hmph.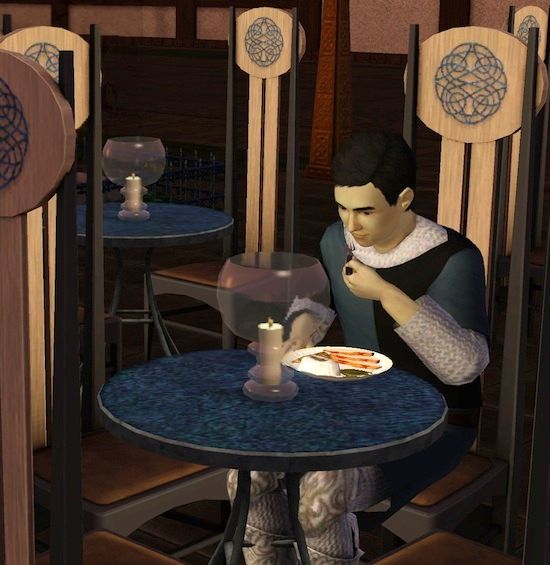 [removed] meanwhile had disappeared again, having gone home to use the computer. She got hungry as well and approached our old nemesis for sustenance.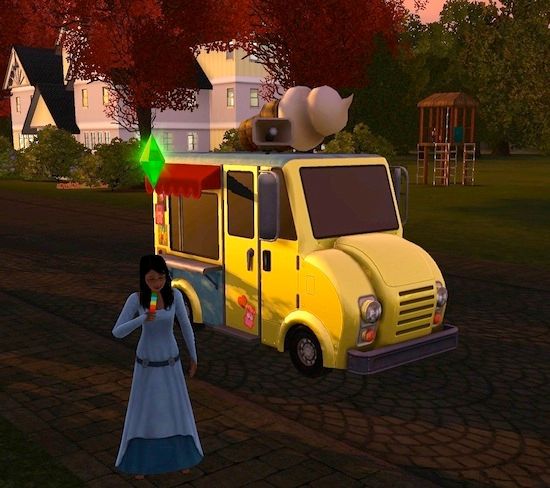 When everyone was full of nice bistro food I sent Minty home as well, so he wouldn't hang about staring at people and casting silly spells. Ollie and I took care of the homework situation. I wasn't happy about Caspin sitting on the floor in her best dress - there are
many
tables there!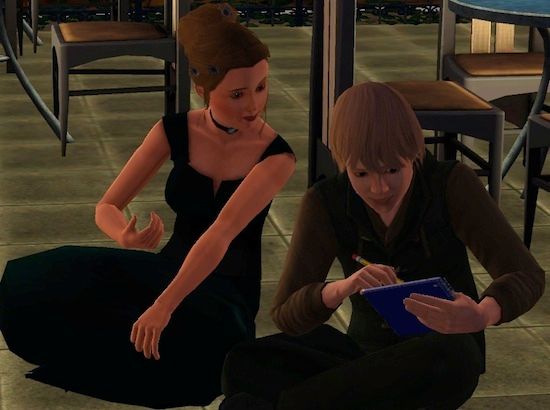 A few townies came and went from the restaurant. Most of them are mad!
Finally the homework was done and we went home for some TV and sleep. I made sure the red dragons were somewhere else so they couldn't take away our sleep again. Minty had a good old stretch - after spending half the day in chainmail he must have been sore!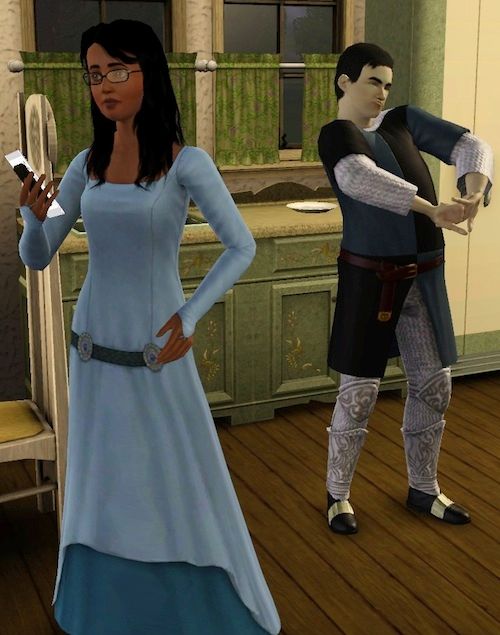 And [removed]'s smartphone obsession continues. I'm getting worried!
25-06-2013, 12:25 PM
Minty
SF Administrator ie Matt's Tea Boy


Posts: 2,813
Joined: Aug 2010
Reputation: 4
RE: Adventures with dragons!
I could REALLY have done with those metallic tights in the garden last week. My poor knees!
If someone could create a dragon that doubled as a mobile phone Sommie's life would be complete
Can fire dragons barbeque hot dogs & stuff? Could be useful.



---
25-06-2013, 01:07 PM
Caspin
I love polenta


Posts: 3,253
Joined: Jun 2012
Reputation: 1
RE: Adventures with dragons!
The dragons have started to annoy me a bit. They seem to just get in the way a lot of the time or sit about in sims' inventories. Our house isn't big enough for the number of sims, never mind a bunch of sleep-stealing fire hazards. Plus where am I going to put Ye Olde Kitties? If they could be used to flame-grill some burgers then I might be more keen on them. Some of the more annoying dragons might have to have a little accident ..... I might let your sim keep Puke, though, as it would be cruel to part them at this point!

User(s) browsing this thread: 1 Guest(s)