Archipelago Bay: a building project!
02-04-2014, 05:38 PM
(This post was last modified: 02-04-2014 05:41 PM by Caspin.)
Caspin
I love polenta


Posts: 3,253
Joined: Jun 2012
Reputation: 1
Archipelago Bay: a building project!
Having had a few hours free on my afternoon off, I decided to start something I've meant to do for a little while now - fill up Archipelago Bay with buildings! Yes, I am going to single-handedly populate an island not only with people but with residences. Exciting eh?
Archipelago Bay is one of
BluebellFlora's worlds
and has been built without roads of any sort, so it shouldn't have routing problems or lag. She's already placed some residential and community lots but they are empty. It's tempting to plonk down a bunch of her builds, since they are so nice, but it seems a bit lazy so I'm going to make my own. I am not a talented builder, as you shall see, but it is quite relaxing to potter about and I do like decorating.
And so let's get cracking. My plan is to have a unified theme on each of the little islands, but I'll try to do something a bit different for each island. First up, this little island that needs five houses. I'll be starting with this one at 1 Coral Plaice.
This is the plot before I built anything. One side will have a view over to a tiny island with a single lot called Isolation Point. The other side will look across to another set of residences. I decided to preserve the privacy of the person who choose to live on Isolation Point, so all the houses will have their doors on the opposite side. Don't want to be too intrusive. It would be madness, however, to live somewhere with a view like this and not have balconies, so I'll have to make apologies about that to the hermit that ends up on Isolation Point.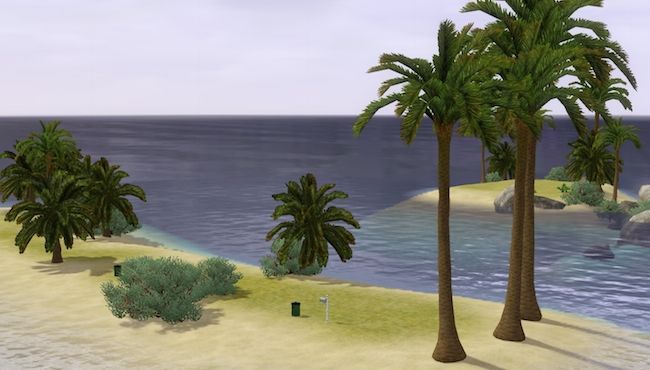 As you can see, I excel in the art of stacking one box atop another box.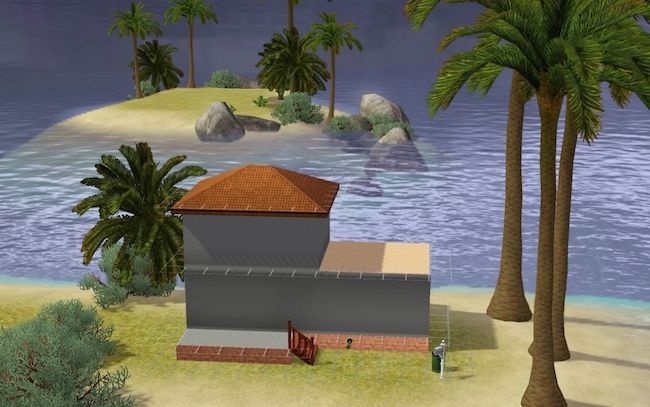 I decided to have a foundation to raise the whole thing up for a better view from the balcony. It's only a 10x15 plot so this will be a one-bedroom house for a single sim or couple. I've stuck the post box and bin in a corner at a jaunty angle, so there'll be plenty of room for a few plants at the front of the house.
Next, the fun bit - picking a colour scheme for this island. Fortunately I had just sat down with a cappuccino, so thought of doing coffee and cream colours. This may end up looking hideous but I'm going to go with it.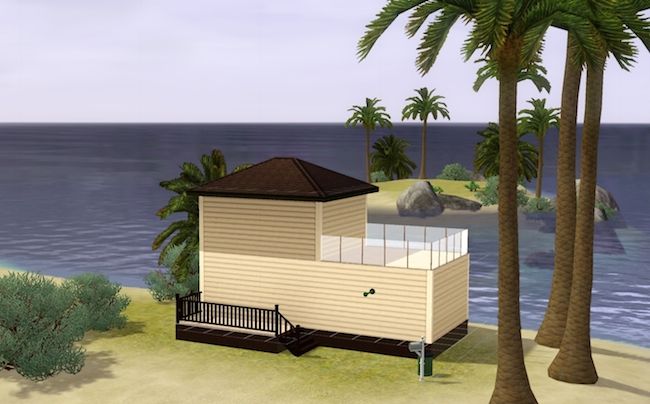 So we have creamy wooden siding for the walls and dark wood for foundation, railings and steps. Simple dark roof because I detest roofing and can't bear to spend too much time on it. I experimented briefly with thatch but it looked quite silly (they have the texture right but not the right roof shapes for thatch, or none that I've ever seen). I went with a lighter, mostly glass railing for around the balcony as I didn't want to block the view with clunky wooden posts.
For doors and windows I used mostly ones from Island Paradise and I changed the colours to match the woods that I'd already used. I like those shuttered windows - they look propped open for a nice breeze. They don't let in much light, so on the short sides of the house I used larger, more open windows without shutters. I may need to add a few more windows I think.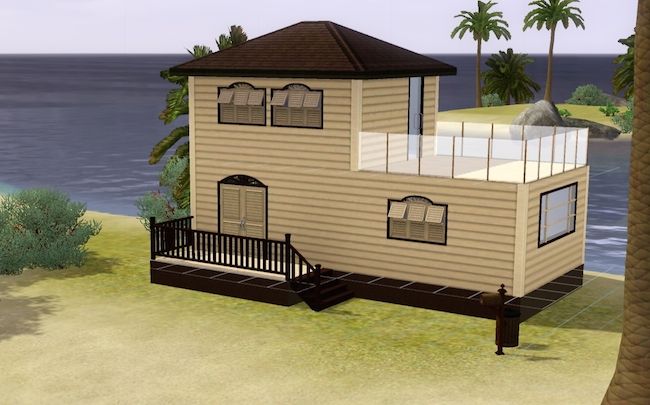 I also recoloured the bin and post box but they've end up a bit too dark. I'll lighten them up next time.
Final act for today, a few plants. BluebellFlora has already put bushes and palm trees between the lots, so I decided to stick with the green palm theme with some of those handy banana leaf shrubs, but also put in some orange bushes and flowers, partly because it goes with the sort-of-yellow exterior walls and also because then I can use those nice birds-of-paradise orange flowers.
I stuck a few potted green plants on the balcony and one next to the door.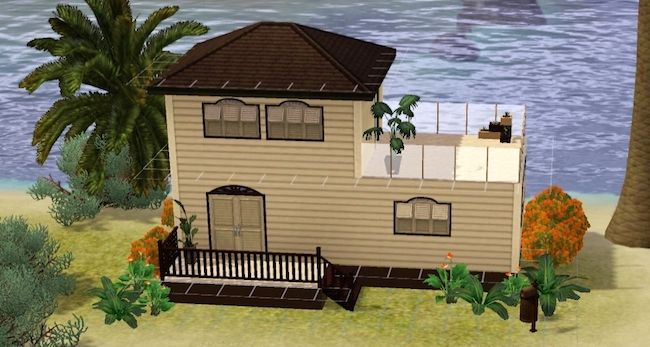 So that's as far as I got. Next up: the interior. But that will have to wait till the weekend.
Feel free to make suggestions if any spring to mind!
02-04-2014, 06:36 PM
Minty
SF Administrator ie Matt's Tea Boy


Posts: 2,813
Joined: Aug 2010
Reputation: 4
RE: Archipelago Bay: a building project!
I love BluebellFlora's worlds (not least of all because I know they won't cause my game to blow up), but it drives me nuts how she always leaves them blank. I guess I'm a lazy sod who likes it ready made (even if I do end up taking it all apart the moment I've downloaded!)
I'd love to know what that squiggly bit is on the left?



---
02-04-2014, 07:35 PM
Caspin
I love polenta


Posts: 3,253
Joined: Jun 2012
Reputation: 1
RE: Archipelago Bay: a building project!
"Squiggly bit" meaning the thin S-shaped island? It is a thin S-shaped island.

Some of BBF's worlds do have some houses and community lots already in place. I quite like
Peculiar Place
, for example. Or some of her earlier worlds have builds already in place too. They are rather marvellous.
05-04-2014, 01:37 PM
Caspin
I love polenta


Posts: 3,253
Joined: Jun 2012
Reputation: 1
RE: Archipelago Bay: a building project!
Onwards with my building extravaganza. This may only be of interest to me, I realise, but I'm afraid SF is going to get pic-spammed until I finish this project. At least it keeps me out of trouble, eh.

I finished house number one. This is how the outside turned out once I stopped meddling. I am happier with the postbox now.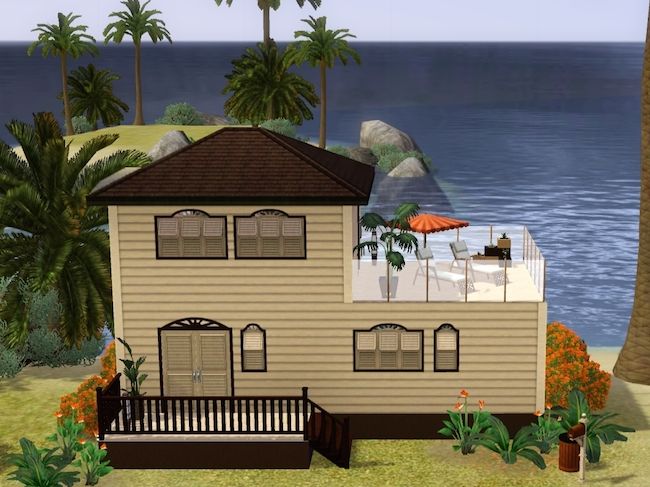 It's turned out OK, I think - a bit of a boring shape, but it's difficult to build something functional on a very small lot. I'll try to do some more interesting shapes on the bigger islands.
Here's the downstairs and upstairs innards!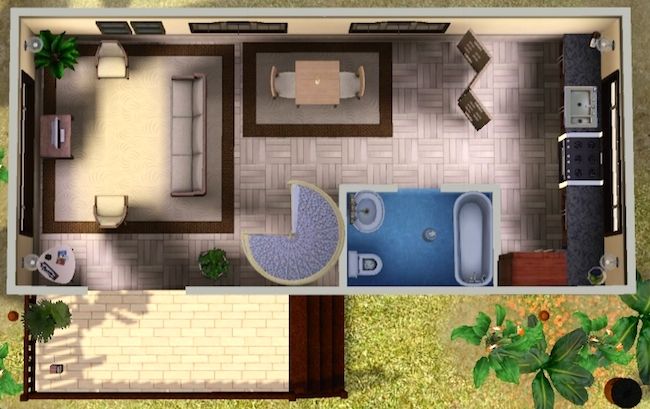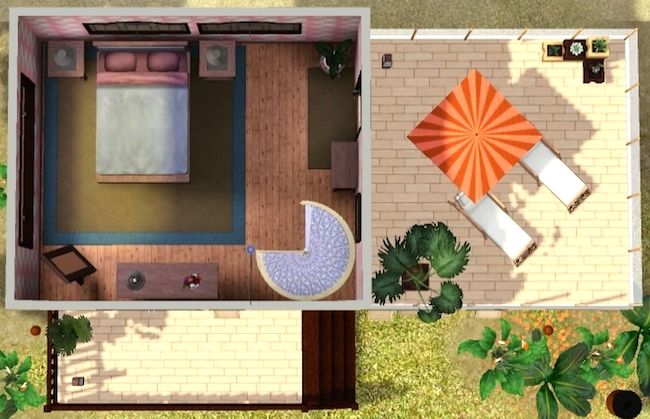 Some snaps of the downstairs (how lovely to have a view of the sea from the kitchen window - I could do with one of those instead of a brick wall!)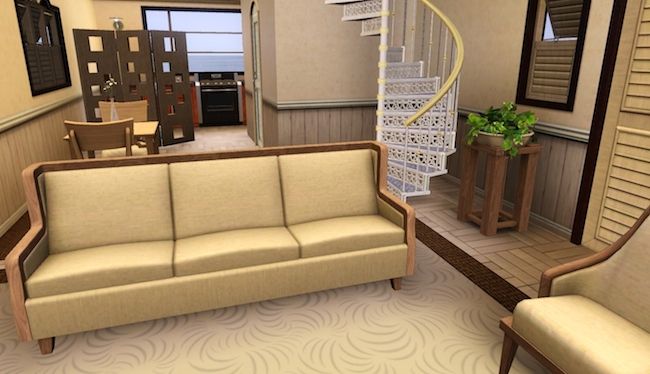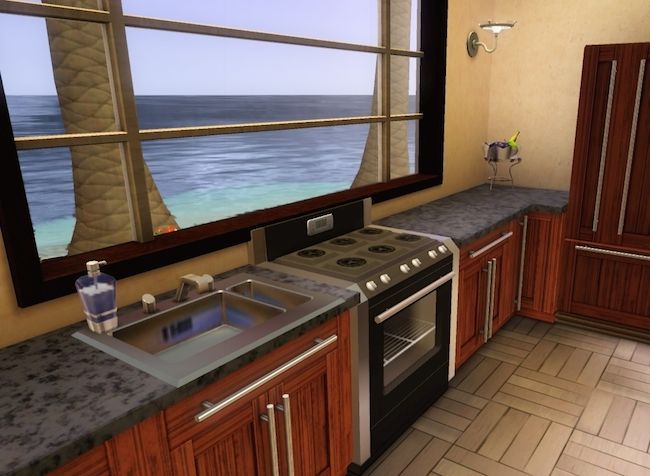 After sticking with neutral colours downstairs I went a bit overboard with colour in the bedroom. "Why not use a wild tropical pattern" I asked myself. Since nobody was here to disagree, wild tropical pattern was go!
Looks a bit like I've spread out a lot of Hawaiian shirts to create wallpaper. Well, I've seen weirder decor.
Anyway, the view from the balcony is very pleasing - and how nice of a colourful balloon to float into view in time for a picture. Thank you, balloon.
I shall now move along to the next plot on this island. Back later.
05-04-2014, 07:49 PM
Caspin
I love polenta


Posts: 3,253
Joined: Jun 2012
Reputation: 1
RE: Archipelago Bay: a building project!
Somehow I finished two houses today. Don't fret, though, I took fewer pictures per house.
2 Coral Plaice
I stuck with the colour scheme of creams and browns but went for a smarter look (or that's what I've aimed for at any rate). This is only a 10x10 plot so there's not a lot of room but I wanted a house big enough for two sims. Thank goodness for for the spiral staircases, saving a lot of space. I don't know how I ever managed without them!
Here is the basic structure. I went for exterior paints rather than siding this time, lighter wood for window frames and fencing, a neat pale tiled roof and a veranda instead of a balcony.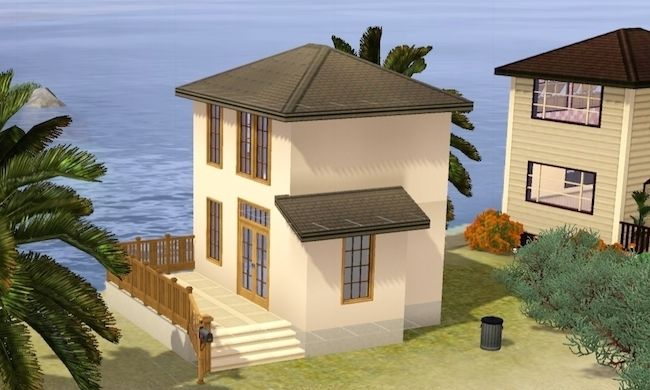 Inside plans: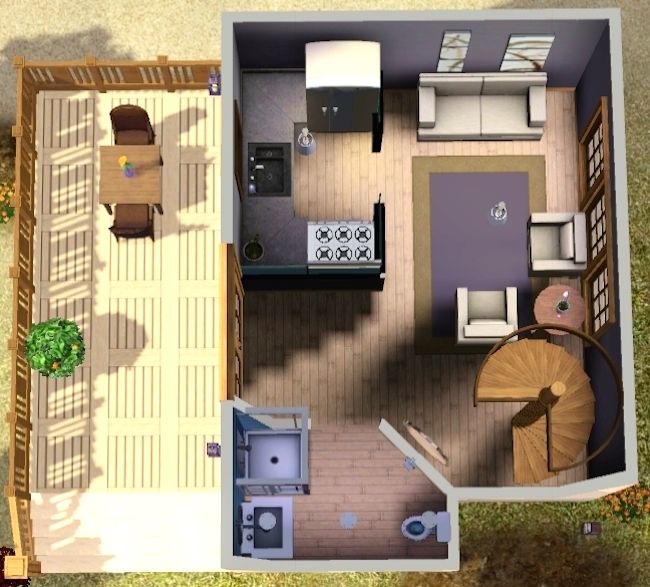 The downstairs space it quite small but, by putting the dining table and chairs outside on the veranda, there was enough room for a small shower room, kitchen and some sofas. Upstairs there is a reasonably spacious double bedroom that also has a bookcase and chair, so two sims should be able to live here no problem. I do enjoy the challenge of building on a small plot!
A few snaps of the downstairs. I am quite pleased with the kitchen. One sim can just stand in that space in the middle and rotate on the spot to reach fridge, cooker and sink (bit like my real kitchen - 'bijou' is the word the estate agents would use).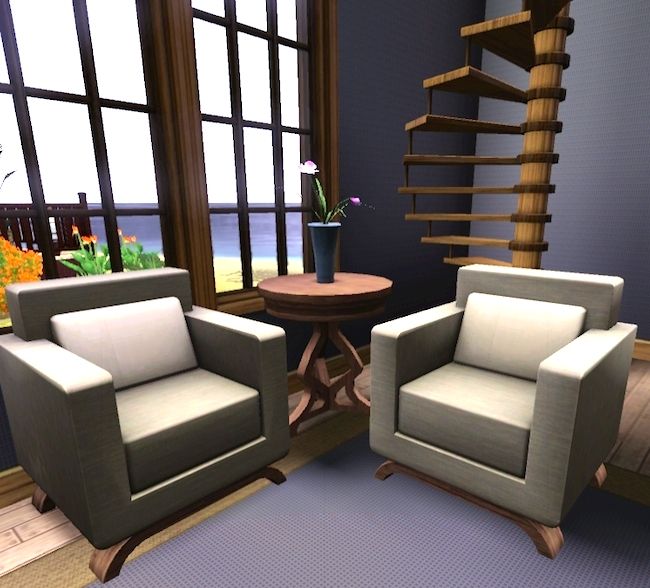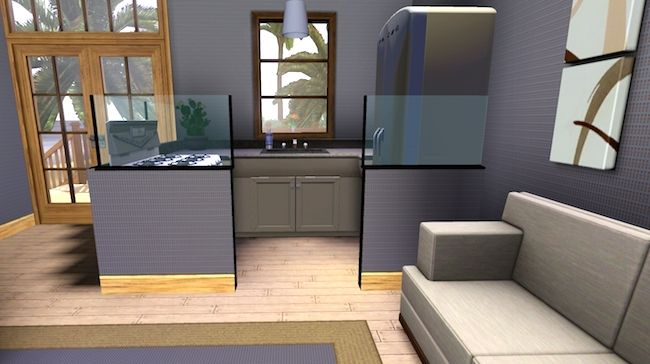 I grew a little weary of the cream colours but didn't want something as outlandish as the pink flowers of the first house, so went with a purple-ish blue pattern throughout. It makes the pictures quite dark but it looks fine in-game.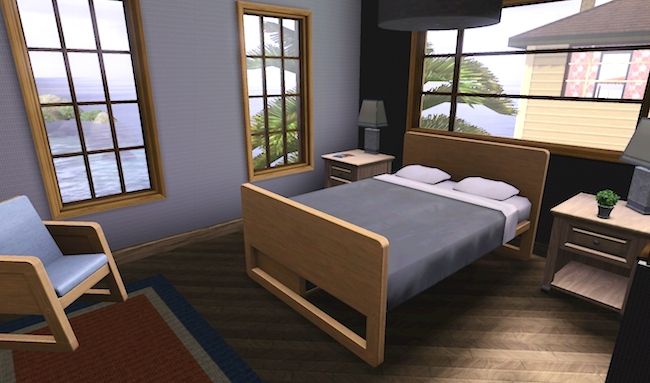 And finally the obligatory planting outside and recolouration of post box. I went with green leafy bushes and orange flowers again but this time used more yellow flowers. I want the houses to be similar enough to look like they belong in a group but each one to be a little different.
3 Coral Plaice
This is the middle house on this island. It's another 10x10 plot. I thought that perhaps I'd do a bungalow this time so that there's a bit of variety of house heights. I also used a strange roof that has only one slope to it, but made it very shallow. I'm not sure how I feel about it but at least it's different from the neighbours.
Here is the finished article:
Dinky hey! Since there is only one storey but I still wanted a double bedroom, I decided to build an outdoor kitchen and dining area. So let's hope it doesn't snow in this world or these sims will freeze their bits off trying to get lunch. Actually they also need to be really keen on pizza and hotdogs because I gave them the wood oven and a barbecue but no proper cooker!
Here be the plan: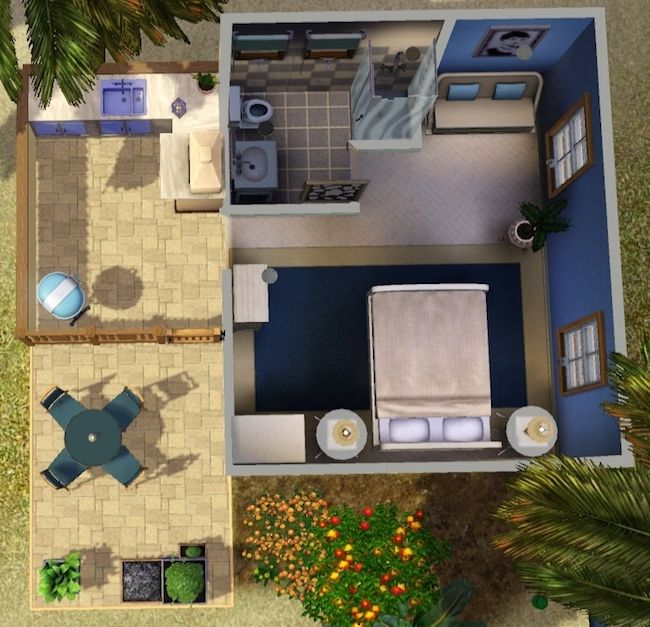 I've squished a shower room in there, plus there's a full set of bedroom furniture, bookshelf and a sofa. Should be fine for two sims I reckon. Went with my favourite shades of blue for this house and found a nice pattern that looks like a creamy wool blanket for the bed.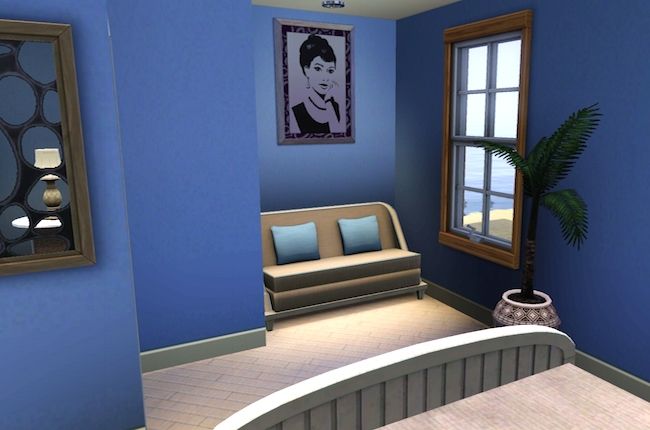 And if I appreciated the sea views from the kitchen window of the first house, this surely has taken the prize now. No pesky glass to block the scene.
Feel the wind in your hair while you're baking your garlic bread!
There are two more plots of this island still needing houses. The next one along is all sandy so some kind of beach hut is clearly required. Then the last one is very tricky because the plot mostly extends into the sea with just a small proportion being on solid ground. This may require me to experiment with stilts or a jetty or some such construction.
06-04-2014, 05:43 PM
Caspin
I love polenta


Posts: 3,253
Joined: Jun 2012
Reputation: 1
RE: Archipelago Bay: a building project!
Today I decided to skip plot 4 and tackle that scarily mostly underwater plot at the end of the island. As you can see, there are not many squares on dry land here.
Good thing sims can swim isn't it. After a false start or two (I was decaffeinated), this is what I came up with.
5 Coral Plaice
I built a foundation for a cabin, with a bit of veranda at the front. The ground is not very even here, so I thought the foundation would at least flatten everything out. To avoid having yet another dull rectangle, I shaped the short ends of the cabin a bit. I've used some of those little porthole windows as well as some with shutters.
I've deviated from the cream/brown colour scheme and gone instead for gray/white, as it seemed more suitable for a house that is practically floating on the sea. Still got those green and yellow plants going on though.
At the back I used the wooden stilt foundation to drag out a jetty-type arrangement. I was surprised at how far out to sea it was letting me build - the jetty could have been a lot longer but this seemed sufficient. I thought it only appropriate that the sim who lives here should have a little boat to get around.
Here is the plan: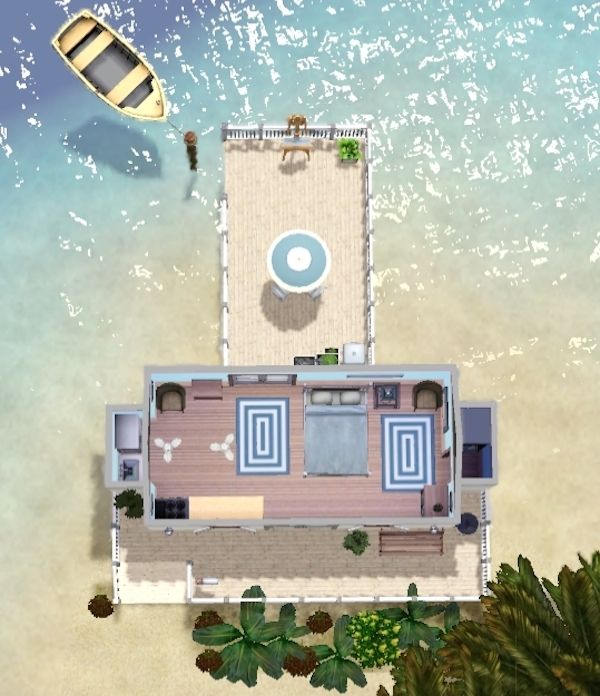 I stuck the dining table outside again, to save space indoors and because who on earth would live on an island like this but eat inside the house? I put an easel on the jetty as well, got to capture those views on canvas. Inside is one studio room, with double bed etc, as well as bookshelf and chairs and a kitchen. There's a barbecue outside but the sims living here will also have a normal cooker. That fridge is quite handy for this sort of house - it looks like a wooden cupboard, not too fridgy at all. Also that sink seemed quite useful as it is free-standing. It looks a bit rustic and resembles places I've stayed in by the sea.
There was very little space for a bathroom so I boxed in one of the 'ends' of the house and put in one of those all-in-one bathrooms.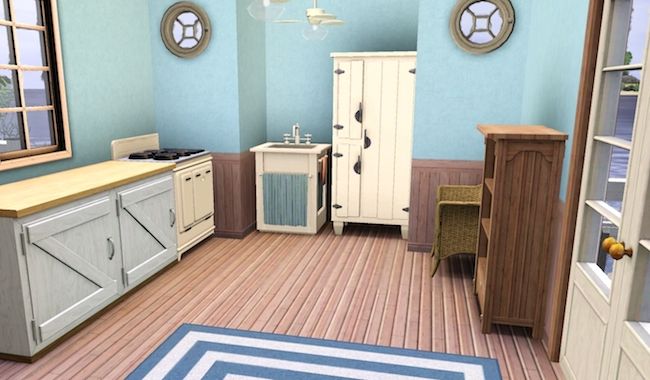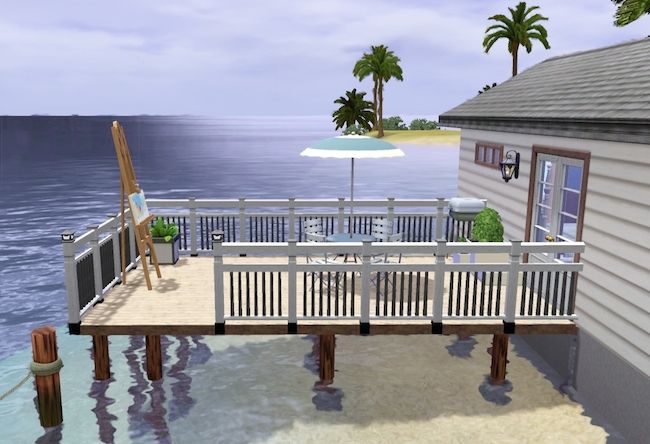 Ta da!
So just plot 4 left to do and then this island of the archipelago is done. It's a bigger plot than I first realised so I am aiming to get a two bedroom family-sized house onto it. Only trouble is that now I've put low-rise houses either side, I don't really want to put a huge house there as it would look silly. I also want something with a pergola. Don't want much do I. I shall ponder it during the week.
Over and out.
08-04-2014, 12:49 AM
Ollie
It's all a conspiracy!


Posts: 3,767
Joined: Sep 2008
Reputation: 0
RE: Archipelago Bay: a building project!
Loving the look of those houses, Caspin. Looking great, particularly with the island/costal style.
On problem I see with the world is, what about community lots? How will my sims ever get a job? Oh well.

---
08-04-2014, 08:54 AM
Caspin
I love polenta


Posts: 3,253
Joined: Jun 2012
Reputation: 1
RE: Archipelago Bay: a building project!
Thank you, Ollie! I do quite like the look of last one I built better than the first few. I deviated from my colour scheme but I can always go back and make some amendments to the others so that they are a bit more matching.

There are a few community lots on the islands, so at some point I will need to tackle those. I imagine most sims living here will be self-employed, though. I envisage lots of painters!
11-04-2014, 01:54 PM
Caspin
I love polenta


Posts: 3,253
Joined: Jun 2012
Reputation: 1
RE: Archipelago Bay: a building project!
OK, I have finished the last one of that set of five houses.
4 Coral Plaice
I managed to fit in a two bedroom house on the final plot. I don't know why I felt compelled to build the house in two parts, but I did. So I did. So there.
I made the walls closer to white than yellow, so hopefully it will look kind of OK next to the yellower house on the right and also OK next to the whiter house on the left.
A spot of planting with the usual suspects. I've become very attached to those banana leaf plants.
Here is the plan. There is a double bedroom and a single bedroom in the big bit of the house, along with a very small bathroom. Then a bigger bathroom and a kitchen over the in the inexplicably separate section.
The house is really difficult to photograph inside, so I just took one picture of the larger bedroom to show the colour scheme, which as you can see is greeny-blue swirls.
Yeah, I don't know what's going on with me today either.
Cup of tea!
11-04-2014, 05:18 PM
Caspin
I love polenta


Posts: 3,253
Joined: Jun 2012
Reputation: 1
RE: Archipelago Bay: a building project!
I decided to tackle that thin S-shaped island next, or, as it shall henceforth be known: Minty's Squiggle.
There are three residential plots on Minty's Squiggle, so I am going to build a house for each of the SF simselves that I have installed, namely me (!), Minty and Ollie.
To make things a bit different from the last island, I will be trying to make modern and luxurious houses. Also we will all get boats.
First up, Minty's house.
1 Stackit Street
Might as well start at number one.
But oh my goodness, there is very little space!
I tested just how far you can drag out a stilted foundation - quite far as it happens. Phew!
Suddenly the plot is huge. Since I am meant to be doing modern here, I went with concrete stilts. A bit of the usual box stacking, but then BluebellFlora's called this Stackit Street so I feel slightly vindicated.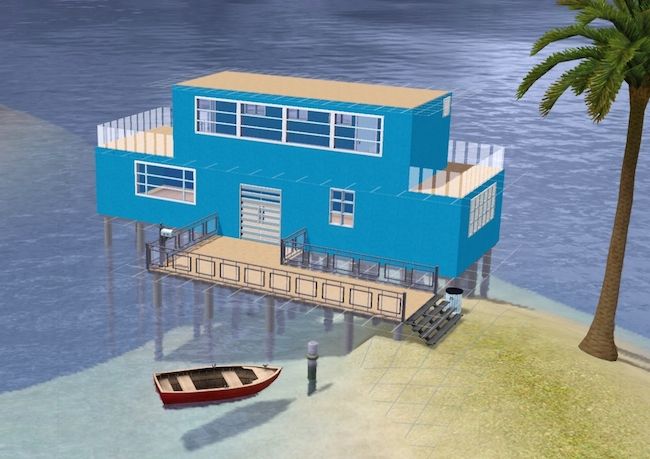 I really hope Minty likes blue.
This is the back.
It looks crazy but I'm pleased to have managed to fit so much on such a tiny initial space.
Now for a bit of decorating. More blue, I suspect.

User(s) browsing this thread: 1 Guest(s)