Archipelago Bay: a building project!
12-04-2014, 04:49 PM
Caspin
I love polenta


Posts: 3,253
Joined: Jun 2012
Reputation: 1
RE: Archipelago Bay: a building project!
I have finished Minty's house now. It's really bright. Here is Minty arriving at his new house (via water taxi - very cool). I think he'll be too hot in that jumper, but this is a building project, not a clothing project, so fixing outfits will have to wait.
Here are the plans of the two floors.
Some picture of the inside. This is downstairs in the main living room area. Minty tested out his new computer. I think most sims here will be self-employed so Minty will be a writer perhaps.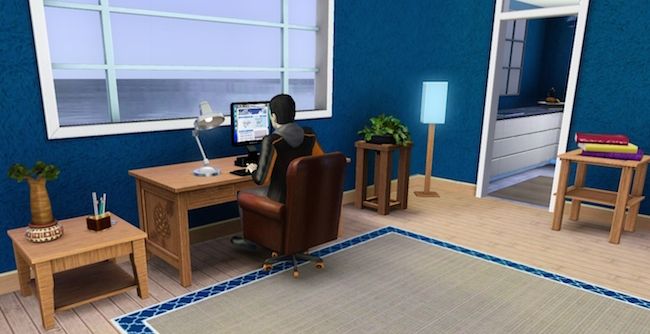 Do you always cross your legs like that?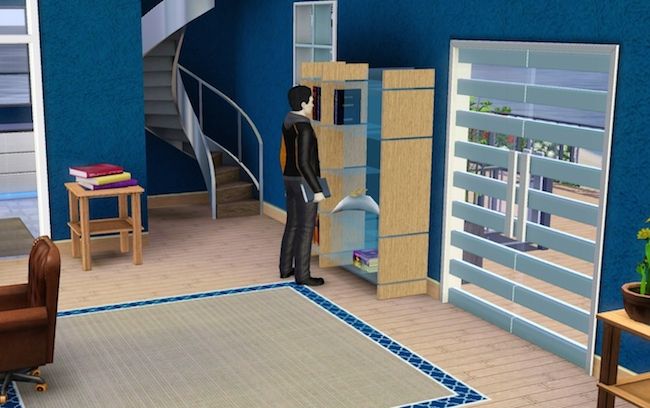 Here is the upstairs. I think the bed is comfy enough. Fantastic view too.
Outside on the deck is a place to lounge - you can let go of the arms of the chair, you know, you won't fall!
And finally, most importantly in fact, a place to stare at the stars. I am still waiting for my extra-green alien baby if you would be so kind as to oblige with the probing adventure.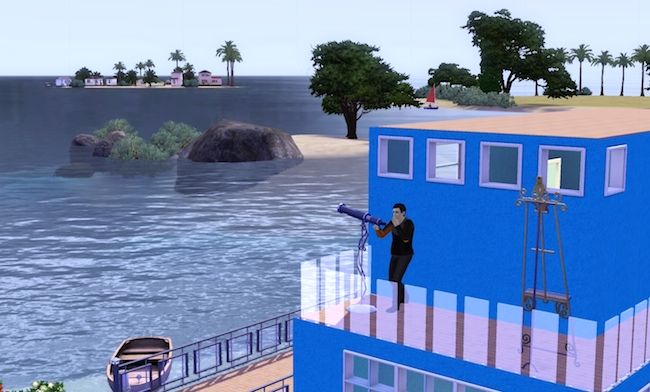 You can see all the other houses I've built so far in the distance there. I really like this archipelago. Minty's blue house sticks out like a sore thumb at the moment (or a cold thumb?) but some more bright houses may be added shortly.
Next up, 2 Stackit Street. Can't decide whether this one will be for me or for Ollie. Maybe I'll just start building and then decide as things progress.
13-04-2014, 11:07 AM
Minty
SF Administrator ie Matt's Tea Boy


Posts: 2,813
Joined: Aug 2010
Reputation: 4
RE: Archipelago Bay: a building project!
I admire your patience in getting those homes partially on stilts up. I tried a couple of times making homes over water, but gave up & decided to leave it to the experts. Making houseboats is another one I'm clueless at.



---
13-04-2014, 03:49 PM
Caspin
I love polenta


Posts: 3,253
Joined: Jun 2012
Reputation: 1
RE: Archipelago Bay: a building project!
I am not so keen on making houseboats either. I suppose I think of houseboats as being narrowboats for canals or at least things that are properly boat-shaped, rather than just regular houses on a floating platform, which is what EA have gone for. I realise that there are such things and some of them are pretty nifty, but they are not to my liking.
I would quite like these:
But I am less interested in these:
I really do love the sailing boats and rowing boats from Island Paradise though.
Building on stilts turned out to be much more straight-forward than I thought. Just drag it out and away you go. I am sure people with advanced building skills could create some amazing structures, but I was happy enough to just be able to make use of those lots that at first glance were so very minuscule! Only trouble with the majority of the house being over water is that the view from the window is like being on a ship, so our sims may develop sea-sickness while completing still.
This building project is now on hold, as I need to catch up with some cooking and reading this afternoon and I'm not at home next weekend, so no Sims for a while. Oh well, gives you guys a break from all my picture spammery.
16-04-2014, 02:38 PM
Ollie
It's all a conspiracy!


Posts: 3,767
Joined: Sep 2008
Reputation: 0
RE: Archipelago Bay: a building project!
Couldn't agree with you more, Caspin. What EA did with houseboats were a bit meh. They just look really clunky.
---
16-04-2014, 05:23 PM
Caspin
I love polenta


Posts: 3,253
Joined: Jun 2012
Reputation: 1
RE: Archipelago Bay: a building project!
Ah well, maybe that can be my next project - trying to build a not-so-clunky houseboat.

If you have any preferences for your house, by the way, let me know. At the moment I'm thinking of copper paneling for yours (yeah, weird, I know) and possibly claret paint for mine. That island is going to look really bizarre but never mind.
27-04-2014, 05:40 PM
Caspin
I love polenta


Posts: 3,253
Joined: Jun 2012
Reputation: 1
RE: Archipelago Bay: a building project!
I have finished my house now, at the other end of Minty's Squiggle (that is starting to sound slightly dodgy). Next I will build Ollie a house in the middle of the Squiggle, then that set of buildings will be finished. Our sims will not be able to afford to live in them for a while, but they'll get there!
3 Stackit Street
Here is the plot before anything was built. It has many more land-based squares than I have been used to on this project!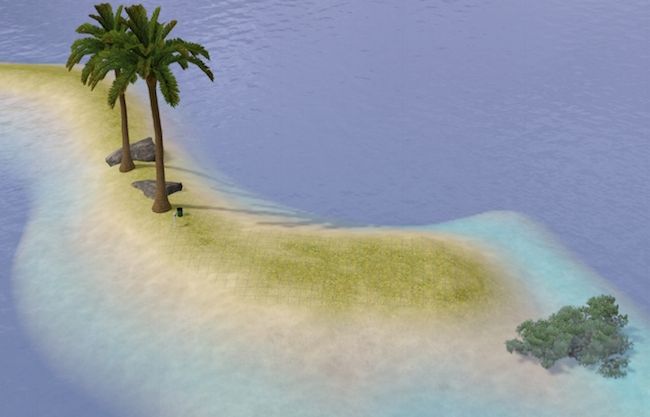 I went a bit nuts with the building of platforms on stilts, as I wanted to max out the build potential of the plot so that I can have a home and a business on the same site.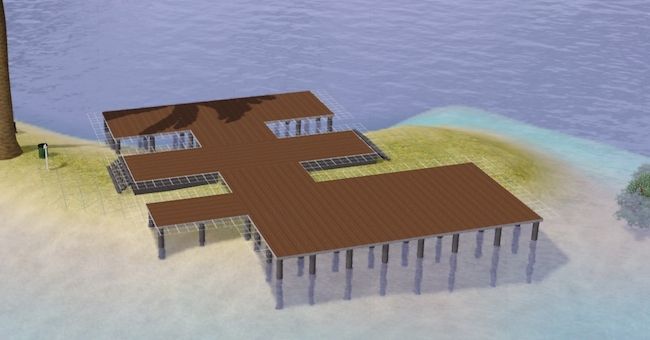 Let's skip ahead to the finished article. Whoooooosh!
As you can see, it is red. Actually, if we want to be all pretentious, this colour's official name is "antique ruby". Red.
The small building on the left is the bakery (that will be the business my sim will run) and the house is the two-storey building on the right. There is a little jetty with a gate on it. There is also an area of private garden at the back, also gated. So I should be able to lock the gates so that bakery customers don't go roaming around the private zones of my property.
Here is the plan of the ground floor: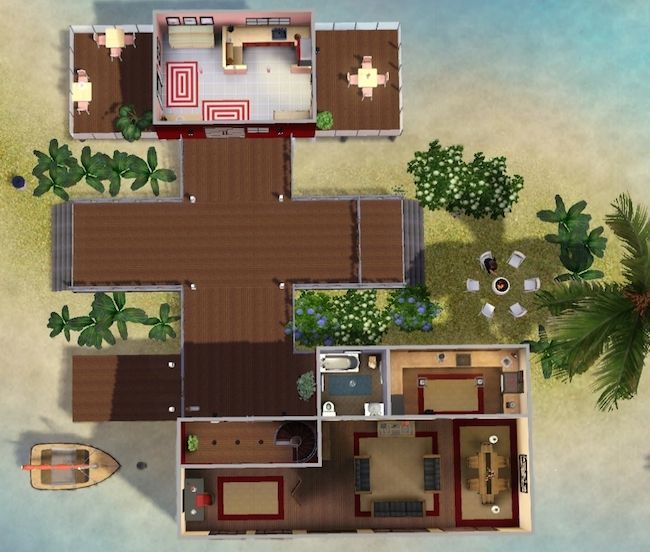 And here is the first floor of the house:
It's one bedroom at the moment, but I've put the stairs into a separate hall on each floor, so I could easily keep building upwards if I wanted to add more rooms later. For cats or something.
Here are some pictures of the bakery section. I have added the necessary bakery stove and one of those cake-displaying chilled cabinets and a bread rack but you can't see those in that picture. The shelf-stocking feature of the bakery is bugged (of course) but I think that because it's on my home lot I should be able to pull stuff in and out of my backpack or fridge and then onto the display. I'll find a way. There's two areas of seating outside so people can sit in the sun and enjoy a sausage roll.
I have not added a cash register, as I read somewhere that apparently this isn't necessary for the functioning of a bakery (what?!). There is space to add one if this turns out to be false.
I tested making some bread rolls. Knead that bread, Caspin!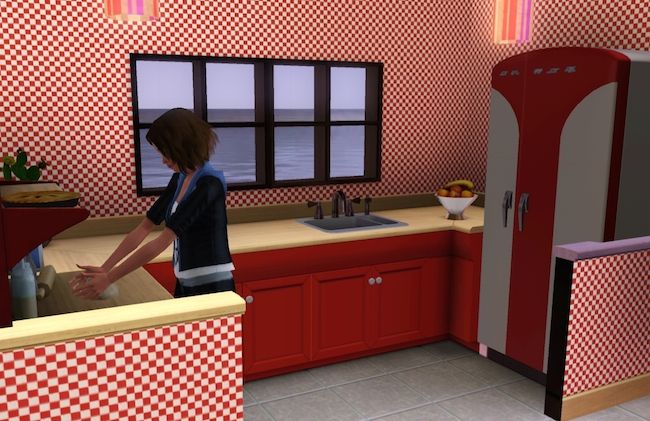 The rolls turned out edible, so that's a good start.
If running a bakery becomes too arduous, I can turn this building into something else. Perhaps an art studio.
Anyway, on to the house.
Starting at the top (because it went dark), here is the bedroom.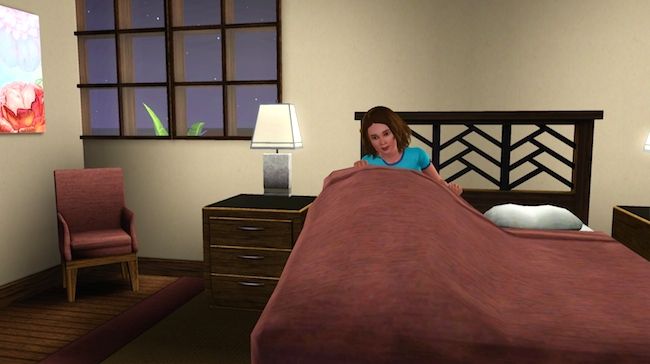 Night night.
I think that my sim might be an artist when I finally start playing this game (yes and a baker as well, why not). So I have stuck in some arty type stuff with tracklights and whatnot.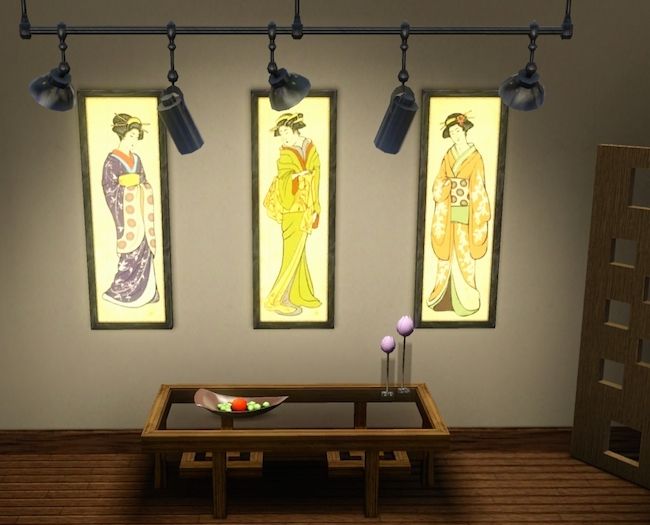 Also easels both indoors and outdoors, for all-weather painting possibilities.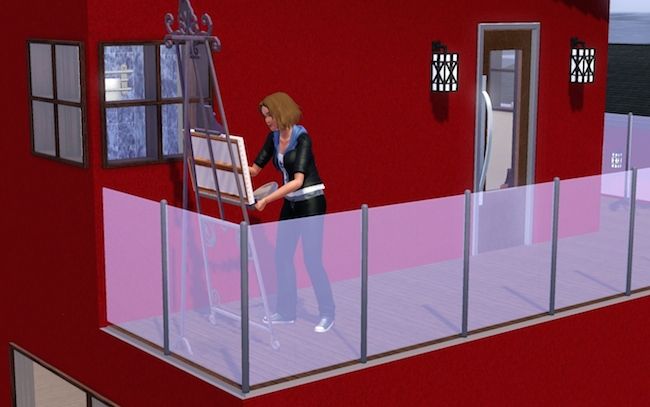 Downstairs, a bit of a study area.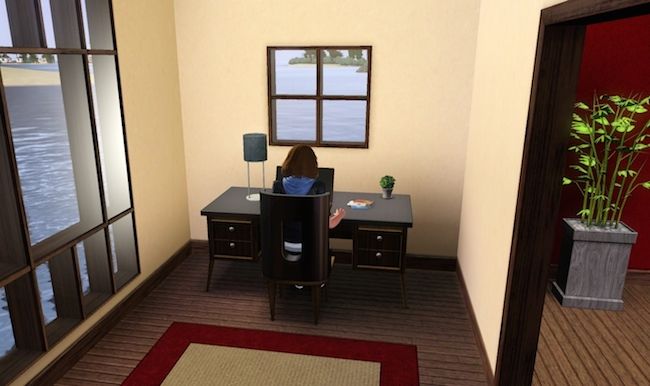 A bit of a kitchen area.
A bit of a living area.
A bit of a dining area.
Yes, I like Japanese styling.
Also there are two bathrooms but they are too little to photograph easily.
Last but not least, here is the patch of private garden at the back of the property. I put in a bunch of plants and a fire pit, because I really do quite like those. I can always unlock the gate and use this area for parties, so you boys can come over to roast marshmallows.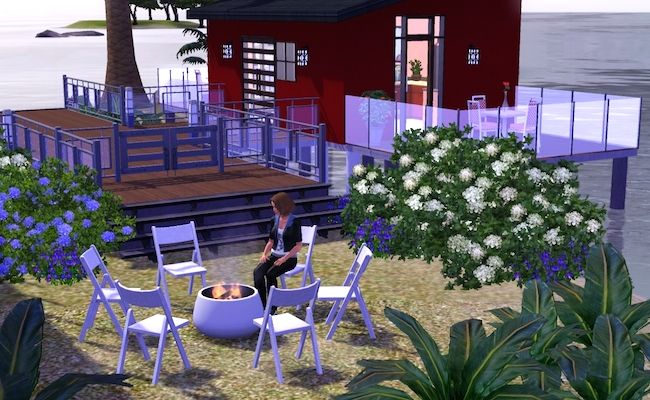 OK, that is the pic spam du jour. At ease.
07-07-2014, 05:16 PM
Caspin
I love polenta


Posts: 3,253
Joined: Jun 2012
Reputation: 1
RE: Archipelago Bay: a building project!
I have now finished Ollie's house. It turned out a weird mustard colour, which is not what I was trying to achieve at the start, but I kind of like it.
2 Stackit Street
So, this is the last plot on Minty's Squiggle. You can see Minty's blue house and my red house at each end of the squiggle. We're going to squish Ollie in the middle so we can keep an eye on him!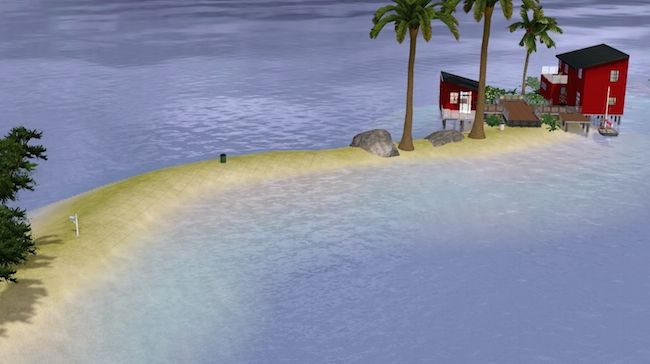 As with the others, a bit of decking and a few stilts were needed at once, or sooner!
Here is the finished article. I did warn you that it was mustard! The two-storey building is the house, the smaller building is the art studio/writing den, where Ollie can decide whether he feels like making words or pictures, or both.
In the background you can see loads of water taxis zooming from somewhere!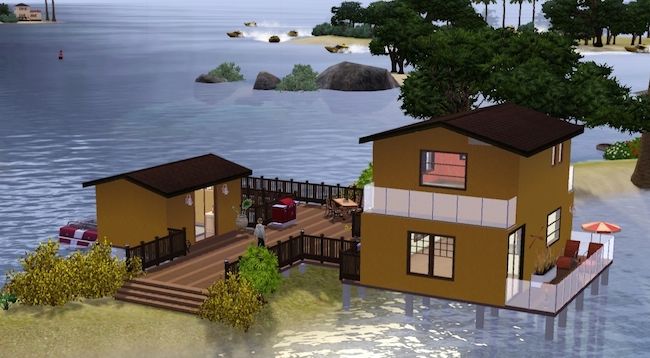 Plans of the two floors: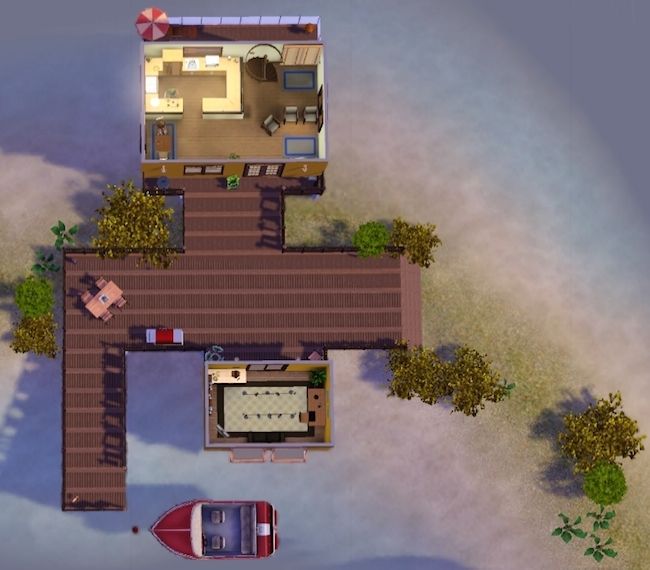 So, there we go. Ollie moved in to test that everything worked, bringing super-cool Aunty Caspin (if anyone ever did call me "Aunty" I think I'd have a fit) along for supervision.
Here's the kitchen area, with a whole world of chopping going on.
There is a big table outside on the deck but a little one inside in case the weather isn't great.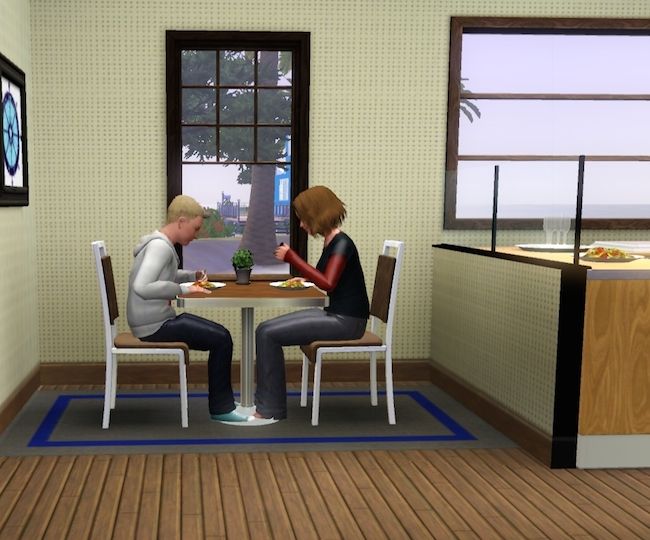 I thought they'd eaten plenty but then, being an Australian, Ollie felt compelled to start grilling things on the barbecue.

Being unable to move due to extreme stuffedness, watching TV was the only option that evening.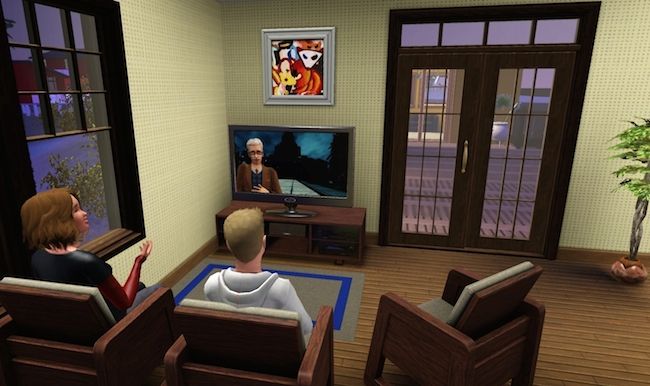 Inside the studio is a comfy sofa, some beverage-making aparatus, an easel and a desk with laptop.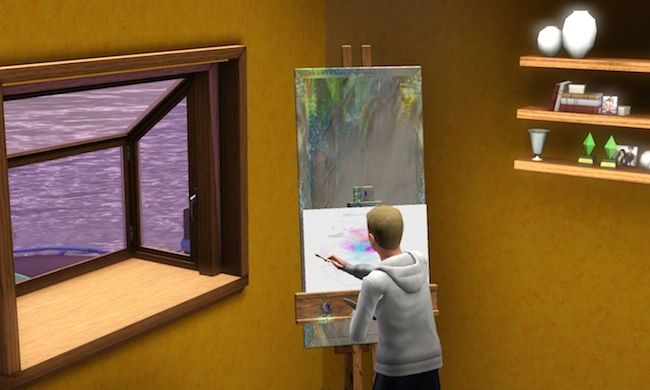 The upstairs turned out rather orange (I was having difficulties with my colours today - nothing went quite to plan), but I decided to run with it. Mustard for the outside, relish for the inside!
There are sofas that guests can nap on, but Caspin decided she would show how tough she is by sleeping outside on a sturdy wooden lounger!
Finally, but quite importantly, speedboat testing!
Yep, that works fine and is speedy. Good!

User(s) browsing this thread: 1 Guest(s)