31-03-2015, 09:17 PM
Minty
SF Administrator ie Matt's Tea Boy


Posts: 2,813
Joined: Aug 2010
Reputation: 4
RE: Cities: Skylines
Reminds me whenever I play Civ & I'm not happy until I've greened my civilization to death. "If you're all gonna die, you'll die with the minimum carbon footprint" - which works until the Aztecs nuke us!
---
01-04-2015, 12:06 PM
Caspin
I love polenta


Posts: 3,253
Joined: Jun 2012
Reputation: 1
RE: Cities: Skylines
Ah well, you are Minty Green, so that's reasonable. People are now starting to leave my doomed city. How can they leave my beautiful parks!
08-04-2015, 05:29 PM
Caspin
I love polenta


Posts: 3,253
Joined: Jun 2012
Reputation: 1
RE: Cities: Skylines
My ability to fail spectacularly is boundless!
Actually, my town is doing quite well. I have totally got to grips with most things and I have introduced a heap of bus routes. My citizens love me. At least the ones who are not on fire love me. There's always something on fire!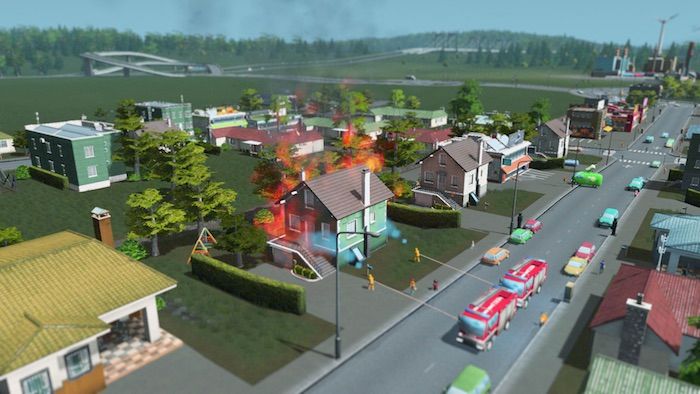 It's mesmerising.
Also I have failed at upgrading roads. I thought I'd upgrade the roundabout that is critical to the functioning of my road network. Having managed to upgrade the top half from two to four lanes, I then found that I could not upgrade the lower portion. So now I have a roundabout with different numbers of lanes on each half, which I'm sure makes it super easy to get round!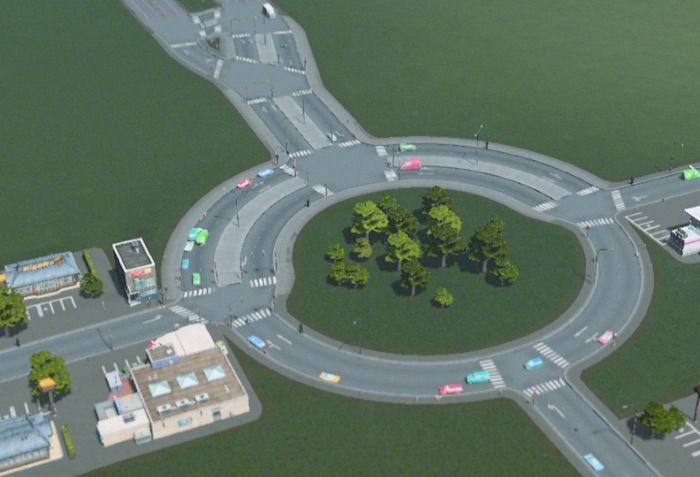 And what the hell have I done to the intersection above the roundabout. What is that?!
08-04-2015, 06:29 PM
Wandarine
Member


Posts: 136
Joined: Dec 2014
Reputation: 0
RE: Cities: Skylines
Haha, that roundabout looks like this bridge in my neighborhood. The river under it is a border between federal states, and one government wanted a 4-lane-road, the other one a six-lane-road, so... yeah. Works really great. Not.
09-04-2015, 04:45 PM
Caspin
I love polenta


Posts: 3,253
Joined: Jun 2012
Reputation: 1
RE: Cities: Skylines
Blimey, that bridge does not sound like a barrel of laughs! Perhaps it's because I don't drive and therefore pay very little attention to road structures, but I'm having some serious problems designing traffic flow solutions. I've concluded that roundabouts are my friend. So I started a new town and called it Swindon, since my memories of Swindon pretty much consist of roundabouts.
Anyway, things started reasonably well, or so I thought, with a roundabout directing the traffic to different zones.
It later became apparent that I had done something weird at the entrance/exit to the highway, with a bizarre sort of square structure being formed. Cars constantly queue on one side of it, while nobody uses the other side. This is because everyone is coming into town but nobody seems to leave. Despite fiddling with it for ages, I could not fix this and ended up doing the one thing I had promised myself I would avoid - building a massive bypass.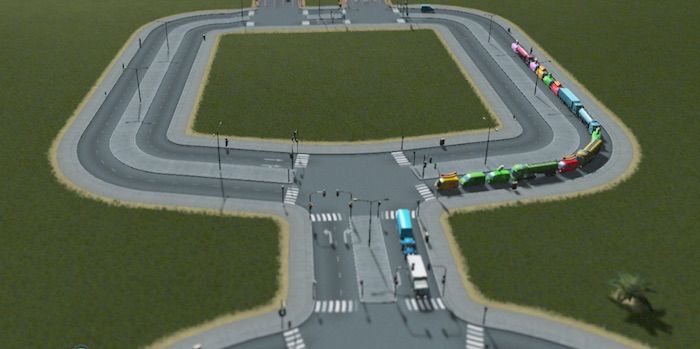 Oh well.
I quite like the different neighbourhoods I created and Swindon had become a rather successful and attractive location, but then I had to reload an old version after making a catastrophic error. While conducting an experiment with the one-way streets, I failed to select two-way streets again, ended up building an enormous number of neighbourhoods (with roundabouts) on a one-way basis, then chaos ensued as everyone was driving ludicrous distances out of their way. I only noticed when a business burned to the ground despite being adjacent to the fire station - because the fire engines had to drive all the way round the one-way system. I tried to bulldoze my way out of trouble but it was too sad. I'd rather start over.
One day I will learn how to do this right (by paying proper attention, for example).
12-04-2015, 02:44 PM
Caspin
I love polenta


Posts: 3,253
Joined: Jun 2012
Reputation: 1
RE: Cities: Skylines
Things are going quite well now in Swindon. Today I have learned more about bus routes and districts and specialised industry. I like to learn things in layers - one day all of this knowledge will surely combine to create a wondrous metropolis!
I have realised that I have made the city too spoke-and-hub in design - a consequence of my over-dependence on roundabouts. Next time I will try a grid structure, so that there are not so many gaps. I think I can't help but want things in discrete zones - it's the biologist in me, always wanting to categorise and organise things into compartments.
Anyway, this is what it looks like now. Yes it is a bit messy but my citizens seem happy.
I rather like this map, with the river on one side a sort of lake on the other.
Here are the Swindonians, queueing up to catch a bus. The bus network works quite well - the citizens really like to take the bus and so that removes a lot of cars from the roads. Things will really improve when I get a metro.
I am pleased to have minimised the horrific industrial zone. The ground pollution is really terrible. Instead I have a farming area (having discovered a handy button that reveals where the fertile land might be) and a forestry area. Much nicer.
Cows - moo!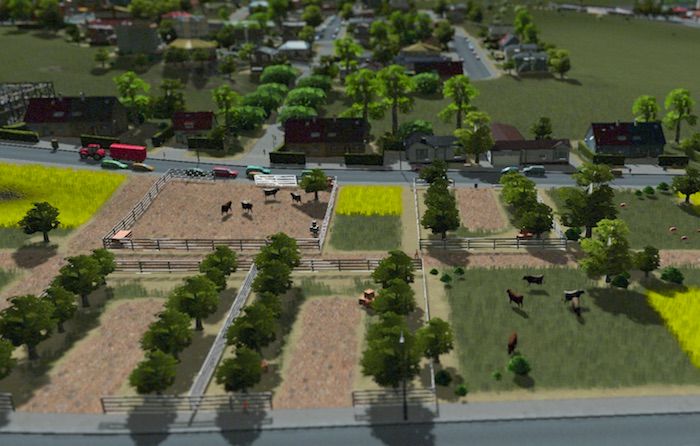 And a bunch of planks.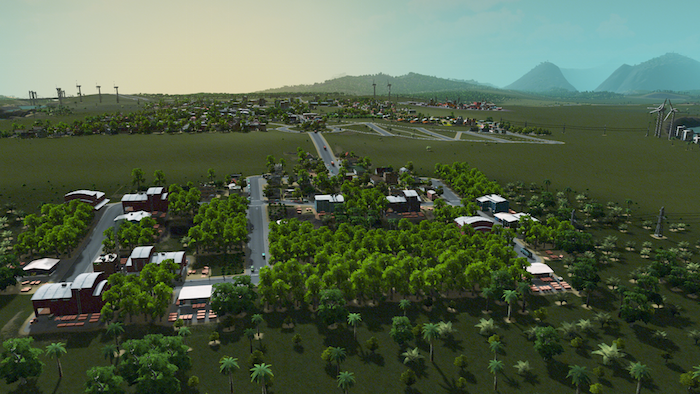 Yeah, pretty happy with this game. I found it a little frustrating at the start but once you know what you're doing it's really entertaining. Like now I remember to leave a few spaces in the residential areas so that I can add parks and paths and trees once they become available. And I can judge how many schools I'm going to need and where to leave spaces for other service buildings. The traffic from the highway is still a bitch but I don't think that busy is necessarily a bad thing - I panic when I see the cars queueing up but they work their way through eventually.
It's one of those games where the time just gets away.
03-10-2015, 05:09 PM
Caspin
I love polenta


Posts: 3,253
Joined: Jun 2012
Reputation: 1
RE: Cities: Skylines
I bought the "After Dark" expansion and am having a great time staring at my town going from day to night and night to day. It looks great! I can't wait for my town to get bigger so that I can have some actual nightlife going on.
DAY!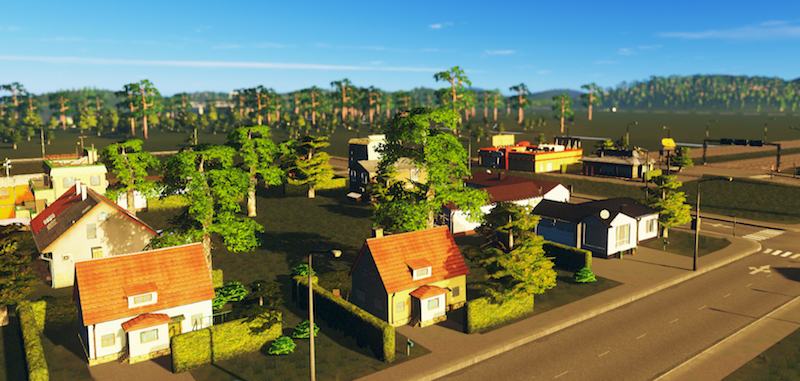 NIGHT!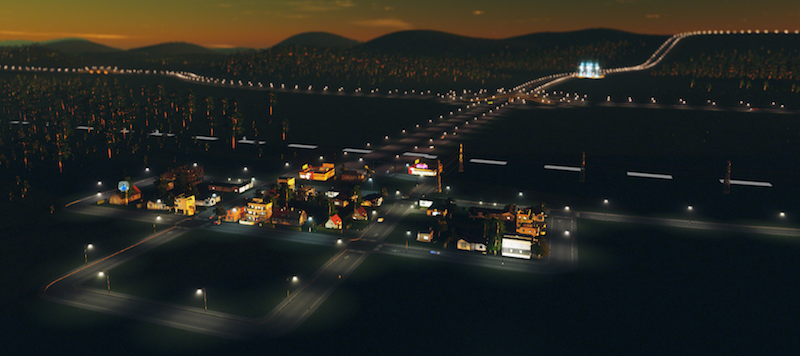 I was so excited when it started turning to dusk and then the streetlights came on. Simple things, eh.

21-01-2016, 10:42 PM
Caspin
I love polenta


Posts: 3,253
Joined: Jun 2012
Reputation: 1
RE: Cities: Skylines
OMG!
Snoooooooooow!
23-01-2016, 09:39 PM
Minty
SF Administrator ie Matt's Tea Boy


Posts: 2,813
Joined: Aug 2010
Reputation: 4
RE: Cities: Skylines
(21-01-2016 10:42 PM)

Caspin Wrote: OMG!





Snoooooooooow!
I didn't realise it didn't have weather. Suppose I'm growing so used to games having weather in as a matter of course (decorative or otherwise). Will it bring new challenges with it?



---
24-01-2016, 01:02 PM
Caspin
I love polenta


Posts: 3,253
Joined: Jun 2012
Reputation: 1
RE: Cities: Skylines
Yes there will be new challenges including keeping the roads clear by using snow ploughs and increased energy demands during cold weather and so on. The snow effect will be available in a free patch, though, so all players can simulate their own blizzard conditions and make everything look pretty and crisp.
The pictures look pretty good I think.
I will have to seriously improve my road-building skills or the snow ploughs will never cope with my wonky roundabouts and dodgy intersections!

User(s) browsing this thread: 1 Guest(s)