24-05-2015, 02:12 PM
Caspin
I love polenta


Posts: 3,253
Joined: Jun 2012
Reputation: 1
Wanda sim
OK, let's see if I can make a sim of Wanda, using very minimal information! The chances of the sim looking right are pretty small, but I can at least give her the right traits and favourites.
Wanda, when you are next around, please can you take a look at these lists and make your selection for your favourite food, favourite colour and favourite music. You can only pick one from each category. I've crossed out some of the options because I don't have the expansion packs for those options.
I've stolen these lists in a terribly sloppy cut-and-paste manner from the Sims Wiki so if you want to read in more detail about the options (or at least read them in focus), click the pictures and it will take you to said Wiki.
Food choices:
Music choices: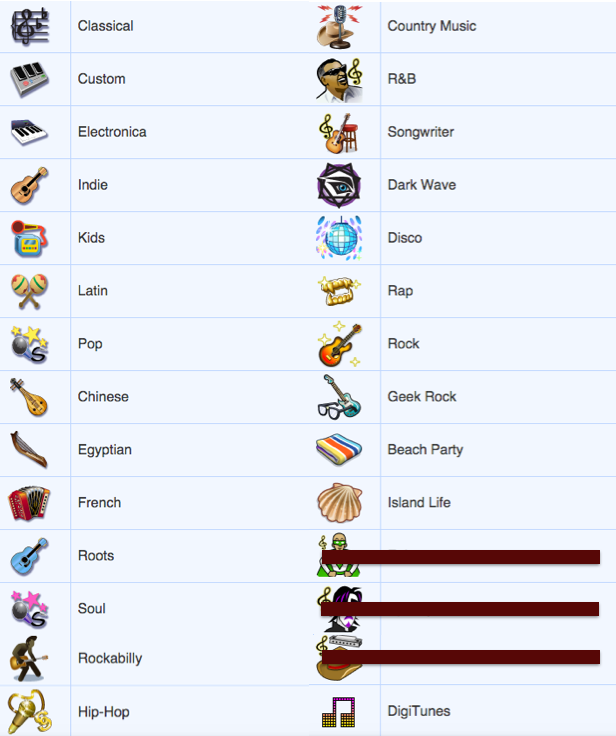 Colour choices:
Then you need to chose five traits from anywhere on the following lists. Some traits are incompatible (for example, you cannot chose both "artistic" and "can't stand art") but just pick the five you think best describe you and we'll see how it works out.
Again, click the pics if you want to read about them in more detail, although most are reasonably self-explanatory I think.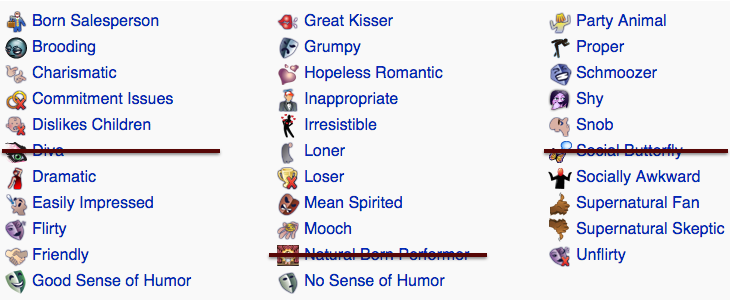 Ta!
24-05-2015, 03:58 PM
Wandarine
Member


Posts: 136
Joined: Dec 2014
Reputation: 0
RE: Wanda sim
There's vegetarian salmon. Just ... wtf
Kind of hard, but let's see. I take the falafel, Rock music and as a color a̶ ̶b̶r̶i̶g̶h̶t̶ ̶a̶n̶d̶ ̶f̶r̶i̶e̶n̶d̶l̶y̶ ̶b̶l̶a̶c̶k̶ lime.
My traits would be
- vegetarian
- grumpy
- family-oriented
- frugal
- hopeless romantic
(If you absolutely hate one of these or don't want them in your game for any reason, feel free to swap with cat person or couch potatoe.)
24-05-2015, 06:24 PM
Caspin
I love polenta


Posts: 3,253
Joined: Jun 2012
Reputation: 1
RE: Wanda sim
Oh I know - some of the vegetarian dishes are utterly ludicrous. They just replace whatever is the meat or fish component with tofu. But the final dish still looks like a salmon or like a turkey. It's absurd.
Wait - a German vegetarian! Excuse my astonishment but (based on my one single trip to Germany) I didn't realise it was possible to live there as a vegetarian. When I was there I thought it was going to be the end of me - every single meal contained meat. Breakfast, lunch and dinner. It was inescapable. I'm not a vegetarian but I don't eat meat three times a day. My digestive system did not know what was going on. On one occasion I was so desperate to not eat pork that I paid to go out to a restaurant even though my hotel was all inclusive. I figured the restaurant would have vegetables or salad at least. The ONLY item available on the menu that lacked meat was tomato soup and when that arrived it tasted like tinned soup. For the next three days I encountered only two non-meat products - an apple that I managed to buy at a market stall, which was so crisp I nearly lost a tooth, and some raw cabbage that arrived in a curry sauce. They claimed it was sauerkraut but that was a lie. It was really disgusting but I was so desperate that my brother washed off the sauce in a jug of water as best he could and I ate the cabbage.
Apologies for any offence caused regarding the otherwise fine cuisine of your nation. In its defence, the wine was great and I ate some pretty spectacular cakes. But if I ever go back there I'm self-catering and taking emergency fruit in jars, just in case.
Sorry, I digress. What are we doing? Ah, yes, designing your personality!
I think those traits should work fine so I will definitely use those. The lime green is noted also.
You also need to pick a "lifetime wish". I've listed them below but for further details click
here
. I've left out the ones that I don't have access to in my game. I would avoid picking 64 to 70 as they require you to be supernatural I think.
Then I will crack on with making your sim tomorrow, or next weekend if time gets away from me.
Lifetime wishes:
01. Become an astronaut (military career)
02. Become a creature-robot cross breeder (science career)
03. Become a master thief (criminal career)
04. Become a superstar athlete (athletic career)
05. Celebrated five-star chef (culinary career)
06. CEO of a mega-corporation (business career)
07. Chess legend (logic skills)
08. Forensic specialist: dynamic DNA profiler (law enforcement career)
09. Gold digger (self-explanatory)
10. Golden tongue & golden fingers (charisma and guitar skills)
11. Heartbreaker (have 10 partners)
12. Hit movie composer (music career)
13. Illustrious author (writing and painting skills)
14. International super spy (law enforcement career)
15. Jack of all trades (multiple careers)
16. Leader of the free world (political career)
17. Living in the lap of luxury (be rich)
18. Master of the arts (painting and guitar skills)
19. Perfect mind, perfect body (logic and athletic skills)
20. Presenting the perfect private aquarium (collect lots of fish)
21. Professional author (earn a lot from writing)
22. Renaissance sim (learn lots of skills)
23. Rock star (music career)
24. Star news anchor (journalism career)
25. Super popular (have lots of friends)
26. Surrounded by family (have lots of kids)
27. Swimming in cash (get rich)
28. The culinary librarian (learn all recipes)
29. The emperor of evil (criminal career)
30. The perfect garden (grow lots of perfect plants)
31. The tinkerer (handiness and logic skills)
32. World renowned surgeon (medical career)
33. Bottomless nectar cellar (make lots of wine)
34. Great explorer (search lots of tombs)
35. Martial arts master (martial arts skill)
36. Physical perfection (martial arts and athletic skills)
37. Private museum (collect many relics)
38. Seasoned traveller (maximum visa for all destinations)
39. Visionary (painting and photography skills)
40. World-class gallery (collect many photographs)
41. Descendant of da Vinci (inventing, painting and sculpting skills)
42. Fashion phenomenon (stylist profession)
43. Firefighter super hero (firefighter profession)
44. Home design hotshot (architectural design profession)
45. Monster maker (create monsters - eh?!)
46. Paranormal profiteer (ghost hunter profession)
47. Pervasive private eye (investigator profession)
48. Possession is nine tenths of the law (own lots of stolen goods)
49. Distinguished director (film career)
50. Lifestyle of the rich and famous (be rich and a celebrity)
51. Master mixologist (mixology skill and own a bar)
52. Master romancer (have a lot of woohoo)
53. One sim band (bass, guitar, drums and piano skills)
54. Superstar actor (film career)
55. The animal rescuer (adopt stray animals)
56. The ark builder (own variety of animals)
57. The canine companion (be friends with lots of dogs)
58. The cat herder (be friends with lots of cats)
59. The fairy tale finder (adopt a unicorn...)
60. The jockey (horse riding skill)
61. The zoologist (collect wild animals)
62. Alchemy artisan (alchemy skill)
63. Celebrity psychic (fortune teller career)
64. Greener gardens (gardening skill and use of fairy spells in garden)
65. Leader of the pack (werewolf-related)
66. Magic makeover (fairy-related)
67. Master of mysticism (fortune teller career)
68. Mystic healer (witch-related)
69. Turn the town (vampires making more vampires)
70. Zombie master (witches making zombies)
71. Blog artist (social networking skill and writing blogs)
72. Major master (earn three degrees)
73. Perfect student (degree with perfect GPA)
74. Reach maximum influence with all social groups (what it says)
75. Scientific specialist (science skill and related career)
76. Street credible (street art skill)
77. Deep sea diver (diving skill)
78. Grand explorer (own islands)
79. Resort empire (own 5 star resort)
80. Seaside saviour (lifeguard job)
81. High tech collector (advanced technology skill)
82. More than a machine (bot building skill)
83. Made the most of my time (experience all alternative futures).
That is quite a list!
24-05-2015, 08:42 PM
Wandarine
Member


Posts: 136
Joined: Dec 2014
Reputation: 0
RE: Wanda sim
No offence taken.
I understand why you'd think it is hard to be vegetarian here, since sausage is somewhat the most german thing ever.
But it's becoming more and more mainstream and the number of "alternatives" (like tofu-schnitzel) is almost ridiculous. This meat-for-every-meal-thing is still strong in my grandparents' generation, though. I get questioned every time I visit. But well. I'm talking too much.

WOW that's a lot of wishes indeed. Let's see. (Lifetime wishes are random in TS2 and I recently got "Eat 200 toasts". That's both crappy and hilarious.)

I've read through all of them and I think No. 26 fits best. If you don't want lots of mini-Wandas in your game, my second wish is No. 20. Aquariums are fun! (Not that I ever had one.)
25-05-2015, 08:58 AM
Caspin
I love polenta


Posts: 3,253
Joined: Jun 2012
Reputation: 1
RE: Wanda sim
Eat 200 toasts!
OK, I have made an attempt at creating you. I am sure you will be alarmed by the result. Let me know if you can describe any changes that would make you more accurate!
You said your hair was short so I picked a random short hairstyle, but there are other options. I can always try on a series of wigs on you and let you pick the one you like best.
I gave you big eyes like your avatar, but I realise that's a cartoon and that this may therefore have been a ridiculous notion on my part. But then it's difficult to avoid being ridiculous in this world and I've long since accepted my fate. For some reason your chin came out a bit pointy but perhaps you have a pointy chin! It is difficult to find a good nose - I remember searching a long time to find my own nose, but then my nose is a bit special.
I gave you mostly casual clothes, since you will probably have to pick up a lot of babies during the game to fulfil your LTW, with some things being green. These are easily changed however so let me know if you want them adjusted once you've seen yourself a bit more in my game. I did at least prevent the game from automatically dressing you as an acrobat and a hotdog.
25-05-2015, 02:33 PM
Wandarine
Member


Posts: 136
Joined: Dec 2014
Reputation: 0
RE: Wanda sim
I actually happen to have big eyes, so you can just keep them.
That chin is very pointy indeed. The nose, too. Just make it a bit.. rounder? I think I have a very childish face.
For the hair, try something less symmetrical. As you said, just try out some and I'll choose.
Also I'm glad I won't dress like a hotdog, that's always good to know

25-05-2015, 03:43 PM
Caspin
I love polenta


Posts: 3,253
Joined: Jun 2012
Reputation: 1
RE: Wanda sim
OK, rounder it is! I have found a rounder nose and tried to make the chin less pointy. Is it enough or do you need to be rounder than that? Anything else I can try?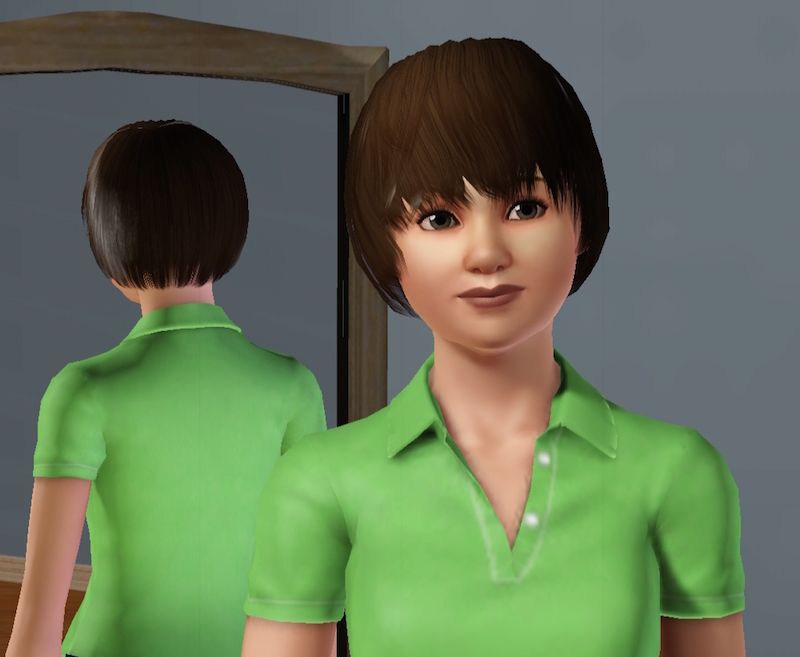 Here come a bunch of short brown hairs. Some of them are still symmetrical, but I have included them for comedy value and in some cases because the sim pulled a funny face as I was taking the picture. Let me know if you see any styles that would be an improvement. Let's call the picture above Hair Number 00.
Number 01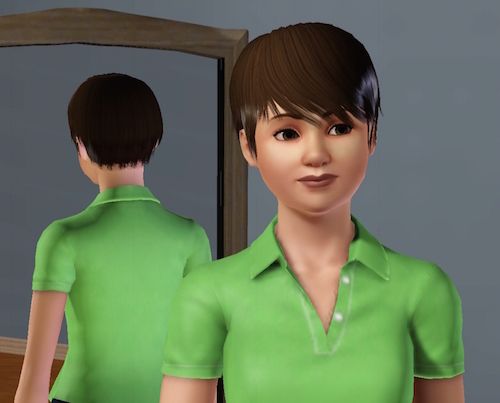 Number 02
Number 03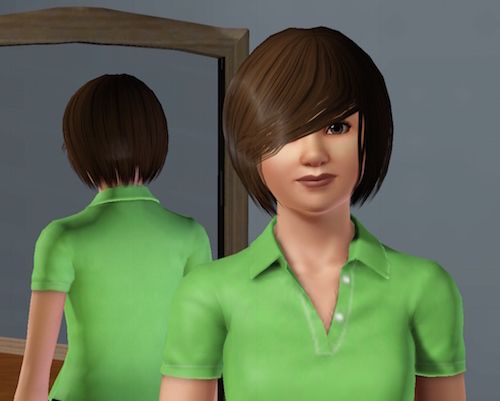 Number 04
Number 05
Number 06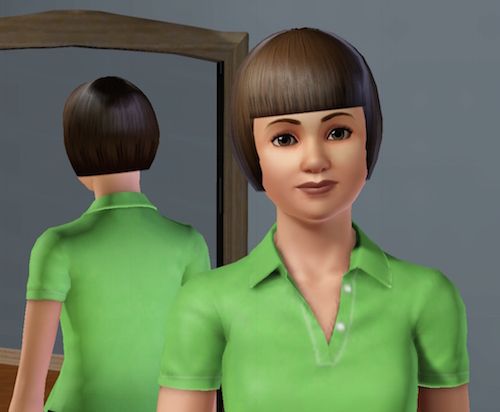 Number 07
Number 08
Number 09
Number 10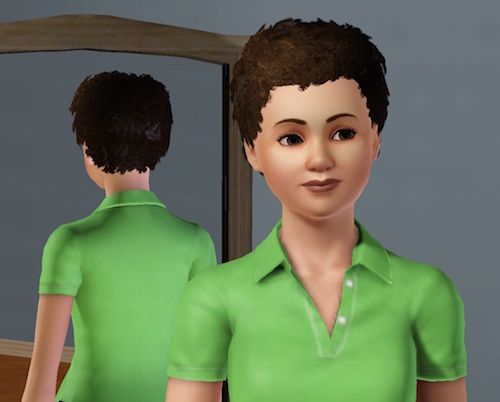 Number 11
Number 12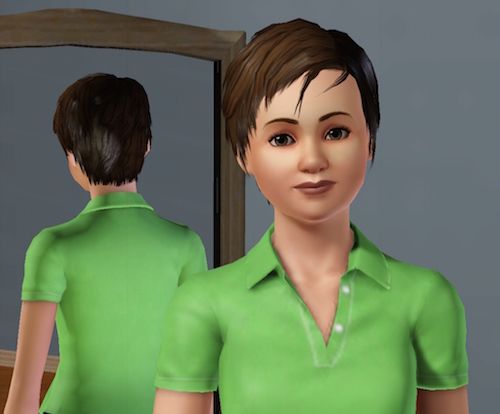 Number 13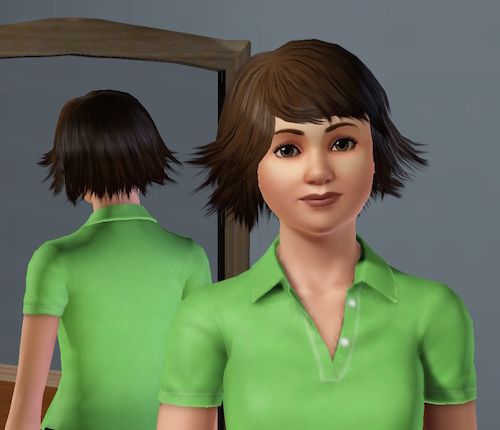 Number 14
Number 15
Number 16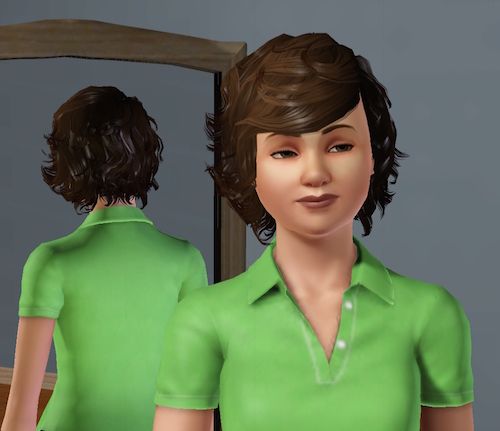 25-05-2015, 04:10 PM
Wandarine
Member


Posts: 136
Joined: Dec 2014
Reputation: 0
RE: Wanda sim
Oh my god Number 6
I think number 12 cuts it best. Haha, get it, "cut". (I'm horrible at this.)
The faces 16 and 7 have comedic value indeed. But well, I've been told I look like the are-you-funking-kidding-me-face before
25-05-2015, 05:48 PM
Caspin
I love polenta


Posts: 3,253
Joined: Jun 2012
Reputation: 1
RE: Wanda sim
Some of them are mad, aren't they!

OK, you now have hair number 12. It looks nice - reminds me of Audrey Hepburn.
25-05-2015, 08:11 PM
Wandarine
Member


Posts: 136
Joined: Dec 2014
Reputation: 0
RE: Wanda sim
Quote: reminds me of Audrey Hepburn.
Now that's a nice thing to hear!

User(s) browsing this thread: 1 Guest(s)